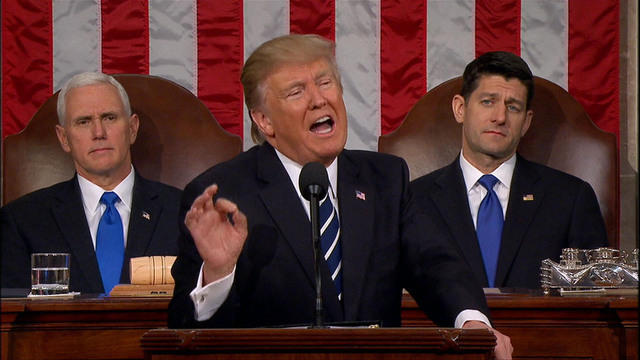 Wednesday
I wrote this post before Donald Trump delivered his State of the Union address, but I already know that it will be filled with grandiose declarations and over-the-top boasting. If you listened and felt slimed, check out the 1996 Nobel speech of Polish poet Wislawa Szymborska, which reader Sara Fisher sent in to cleanse yourself.
Meditating on what differentiates poets from "torturers, dictators, fanatics, and demagogues struggling for power by way of a few loudly shouted slogans," Szymborska observes that the latter are certain while the former are not. People such as Trump
know, and whatever they know is enough for them once and for all. They don't want to find out about anything else, since that might diminish their arguments' force. And any knowledge that doesn't lead to new questions quickly dies out: it fails to maintain the temperature required for sustaining life. In the most extreme cases, cases well known from ancient and modern history, it even poses a lethal threat to society.
Szymborska opts instead for incessant questioning:
This is why I value that little phrase "I don't know" so highly. It's small, but it flies on mighty wings. It expands our lives to include the spaces within us as well as those outer expanses in which our tiny Earth hangs suspended….
Poets, if they're genuine, must…keep repeating, "I don't know." Each poem marks an effort to answer this statement, but as soon as the final period hits the page, the poet begins to hesitate, starts to realize that this particular answer was pure makeshift that's absolutely inadequate to boot. So the poets keep on trying, and sooner or later the consecutive results of their self-dissatisfaction are clipped together with a giant paperclip by literary historians and called their "oeuvre" …
Trump, I suspect, has never uttered the words "I don't know." His insecurity is such that he must present himself as being in control at all times. In his mind, nothing is worse that being a "loser," as was revealed once again in an incident that has just come to light involving the FBI's former acting director Andrew McCabe:
The day after he fired James Comey as director of the FBI, a furious President Donald Trump called the bureau's acting director, Andrew McCabe, demanding to know why Comey had been allowed to fly on an FBI plane from Los Angeles back to Washington after he was dismissed, according to multiple people familiar with the phone call.
McCabe told the president he hadn't been asked to authorize Comey's flight, but if anyone had asked, he would have approved it, three people familiar with the call recounted to NBC News.
The president was silent for a moment and then turned on McCabe, suggesting he ask his wife how it feels to be a loser — an apparent reference to a failed campaign for state office in Virginia that McCabe's wife made in 2015.
McCabe replied, "OK, sir." Trump then hung up the phone.
Under presidential pressure, McCabe has just resigned.
I'm trying to think of literary figures who are as petty and vindictive as our president, but all that currently comes to mind is an Emily Dickinson poem that captures Szymborska 's distinction between poets and politicians:
I'm nobody! Who are you?
Are you nobody, too?
Then there's a pair of us — don't tell!
They'd banish us, you know.
How dreary to be somebody!
How public, like a frog
To tell your name the livelong day
To an admiring bog!
Trump is more than ready to banish nobodies. How dreary to spend every waking hour croaking your name.