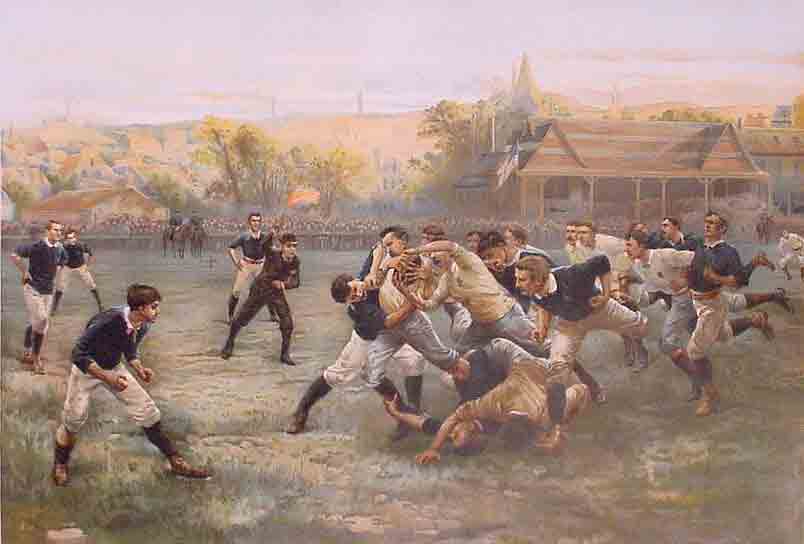 Sports Saturday
College football news has me thinking that we've traveled back in time. That's because, after many years of being mediocre, the fabled Notre Dame program has its team once again sitting atop the rankings. If the Fighting Irish beat the University of Southern Cal today in what is one of college football's great intersectional rivalries, they will play in the national championship game. Win one—and then one more—for the Gipper!
Speaking of great football rivalries, here's a poem about the greatest—or at least the oldest—of them all, Harvard against Yale. Every year the two end the season with a game referred to as "the game." Among the many great moments between the two schools is Harvard's miraculous 16 point comeback in the final 42 seconds of the 1968 game against a heavily-favored Yale team.  The Harvard Crimson announced the final result in one of sports history's most memorable headlines: Harvard Beats Yale 29-29. (Yale, incidentally, won this year's "game" 34-24.)
The poem is by Franklin B. Adams, a New York Herald Tribune columnist from 1913-37. "Sheff" is Yale's Sheffield Science School, "Phelps" and "Capps" are legendary professors, and "Haughton" is Percy Haughton, Harvard's coach from 1908-16. Harvard won three national championships during the Haughton years, which is when the poem must have been written.
The Higher Education
("Harvard's prestige in football is a leading factor. The best players in the leading preparatory schools prefer to study at Cambridge, where they can earn fame on the gridiron. They do not care to be identified with Yale and Princeton."—Joe Vila in The Evening Sun.)
"Father," began the growing youth,
"Your pleading finds me deaf;
Although I know you speak the truth
About the course at Sheff.
But think you that I have no pride,
To follow such a trail?
I cannot be identified
With Princeton or with Yale."
"Father," began another lad,
Emerging from his prep;
"I know you are a Princeton grad,
But the coaches have no pep.
But though the Princeton profs provide
Fine courses to inhale;
I cannot be identified
With Princeton or with Yale."
"I know," he said, "that Learning helps
A lot of growing chaps;
That Yale has William Lyon Phelps,
And Princeton Edward Capps.
But while, within the Football Guide,
The Haughton hosts prevail,
I cannot be identified
With Princeton or with Yale."