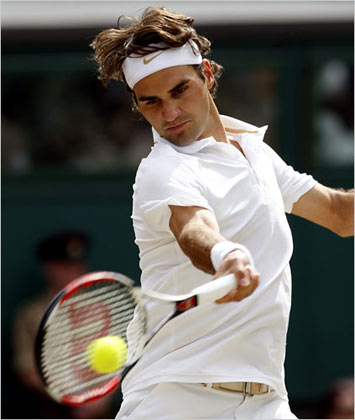 Note: Because so many sports championships occur on the weekends, I have decided to reconfigure the blog slightly and no longer will wait until Saturday to write on sports. I'll continue to write on sports once a week but the day will now vary.
It's difficult to do justice to Roger Federer's wondrous win at Wimbledon yesterday but, as always, I turn to literature to make a stab at it. Muhammad Ali's exquisite two-line poem containing opposites—"Float like a butterfly, sting like a bee"—came to mind as Federer at times seemed to hover above the court. "His movement is unbelievable, it's like he's floating," enthused commentator John McEnroe as Federer glided around, time after time getting into the perfect position to unleash one of his fearsome forehands.
Murray played a fine game but, after playing aggressively and taking a one-set lead, he seemed unnerved by the sheer variety of Federer's shots. Sometimes the Swiss player sent backhand shots at impossible angles, sometimes he executed perfect drop shots, sometimes he painted the corners. He looked more like the Roger Federer of five years ago than the man who is about to turn 31, which is old in the tennis world.
It has been a long time since any male player over 30 won a Grand Slam event, but Federer seemed so smooth that one commentator noted how it was difficult to tell who was the younger player (Murray is 25). It was all the more remarkable given that, in the quarterfinals, Federer hurt his back in the first set and had to marshal all his considerable talent to survive. And here he was, engaged in a gravity-defying dance.
Since he seemed fairy-like in the way that he moved—fairy-like but with a vicious sting thrown in—I was reminded of the dynamic tension in Alexander Pope's Rape of the Lock. On the one hand, there is Belinda, who is buoyed by the sylphs so that she glides through dangerous situations with a sure instinct.  On the other, there is the Baron, who wields the scissors with the coldness of an assassin. Federer was both Belinda and the Baron, floating like a butterfly, stinging like a bee.
Or maybe I should invoke Prospero's staff since Federer had the ability to make magic happen with his own. And am I remembering right that Gandalf, when visiting the King of Rohan, overthrows his evil counselor Wormtongue once he gets hold of his staff. Federer did amazing things with his racket, including winning the second set with a spinning drop volley that had McEnroe gasping, "Are you kidding me?!" Later in the match, to prove the shot was no accident, Federer did it again. "Hail to thee blithe spirit, man thou never wert," I was tempted to say, borrowing from Shelley.
It was too bad that the brilliant performance came against Great Britain's best hope for a champion in 78 years. But Federer was so magnificent that losing was no disgrace.
Previous posts on Federer
The Prizefighter vs. the Yokel
Applying Kipling's "If" to Wimbledon