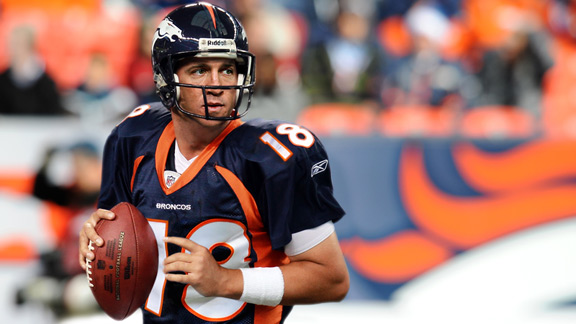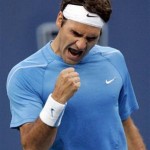 I've been feeling a bit like Tennyson's Ulysses recently when it comes to sports. That is to say, as I enter my sixties I'm rooting particularly hard for players in their twilight years. Substitute "retirement" for "death" in the following passage and you can understand why I have felt rejuvenated by Roger Federer's performance this summer and why I am eagerly anticipating Peyton Manning as he returns from a neck injury that could easily have ended his career:
Old age hath yet his honor and his toil;
Death closes all: but something ere the end,
Some work of noble note, may yet be done,
Not unbecoming men that strove with Gods.
The lights begin to twinkle from the rocks:
The long day wanes: the slow moon climbs: the deep
Moans round with many voices. Come, my friends,
'Tis not too late to seek a newer world.
Push off, and sitting well in order smite
The sounding furrows; for my purpose holds
To sail beyond the sunset, and the baths
Of all the western stars, until I die.
To be sure, I have long been both a Federer and a Manning fan. But there's something special now about their "work of noble note." Federer stunned the tennis world (his version of striving with gods) when he won Wimbledon and regained the world's top ranking at the ancient age of 30. We don't yet know how Peyton will perform since Denver, his new team, faces one of the toughest schedules in the NFL. But if he is able to take the Broncos to a Super Bowl, it will be his version of Ulysses "touch[ing] the Happy Isles and see[ing] the great Achilles."
To be sure, Ulysses also acknowledges the possibility of failure: "It may be that the gulfs will wash us down." After dong what no one thought he could do and surpassing Pete Sampras's record of most weeks at #1, Federer then proceeded to get thrashed by Andy Murray in the Olympic finals (although the silver medal was some consolation) and get blown off the court in the U. S. Open quarterfinals by the hard-hitting Thomas Berdych. Likewise, Peyton may find himself overwhelmed by gulfs of defensive linebackers.
Nevertheless, for the moment these two players have me thinking like Tennyson's old mariner:
Though much is taken, much abides; and though
We are not now that strength which in old days
Moved earth and heaven; that which we are, we are;
One equal temper of heroic hearts,
Made weak by time and fate, but strong in will
To strive, to seek, to find, and not to yield. 
Onward!