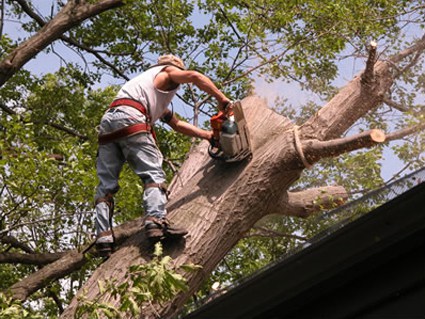 Tuesday
Today's story and today's poem both involve chainsaws but otherwise have very different endings. We had a rotten tree by our house, and as I watched the head of a local tree service instruct his 14-year-old son how to climb and attach the guide ropes, I thought of the grim Robert Frost poem "Out, Out."
Fortunately all went well, unlike in the poem. Frost's opening line provides an ominous foreshadowing of what it to come:
The buzz saw snarled and rattled in the yard
And made dust and dropped stove-length sticks of wood,
Sweet-scented stuff when the breeze drew across it.
And from there those that lifted eyes could count
Five mountain ranges one behind the other
Under the sunset far into Vermont.
And the saw snarled and rattled, snarled and rattled,
As it ran light, or had to bear a load.
And nothing happened: day was all but done.
Call it a day, I wish they might have said
To please the boy by giving him the half hour
That a boy counts so much when saved from work.
His sister stood beside him in her apron
To tell them 'Supper.' At the word, the saw,
As if to prove saws knew what supper meant,
Leaped out at the boy's hand, or seemed to leap—
He must have given the hand. However it was, 
Neither refused the meeting. But the hand!
The boy's first outcry was a rueful laugh,
As he swung toward them holding up the hand
Half in appeal, but half as if to keep
The life from spilling. Then the boy saw all—
Since he was old enough to know, big boy
Doing a man's work, though a child at heart— 
He saw all spoiled. 'Don't let him cut my hand off—
The doctor, when he comes. Don't let him, sister!'
So. But the hand was gone already.
The doctor put him in the dark of ether.
He lay and puffed his lips out with his breath.
And then—the watcher at his pulse took fright.
No one believed. They listened at his heart.
Little—less—nothing!—and that ended it. 
No more to build on there. And they, since they
Were not the one dead, turned to their affairs.
I saw none of this New England coldness when Issac King made sure his son had his spikes firmly implanted in the tree, was properly balanced so that he could loop the ropes around a protruding knot, and had the ropes properly positioned so that they wouldn't lash him as he rappelled back down. The job was relatively simple since our only requirement was that the tree fall away from the house. We watched breathlessly.
It so happens that we are familiar with the King family's familiarity with chainsaws. Isaac's grandfather Elvin was a regionally famous chainsaw artist who carved animals out of logs. He was so skilled that he could peel an apple with a chainsaw, and Isaac informed us that, when his grandfather was younger, he could even peel a tomato. Our family owns several King works.
It has not always been smooth sailing for Isaac as he almost lost a finger when cutting a lightning-struck tree. Fortunately, the hospital was able to resew the finger back on, and Issac said that he didn't even have to postpone his vacation the following day (although his wife drove the car to the airport). The stoicism of Frost's farmers did show up there.
Their toughness also showed up in his early lessons. He also told us about sliding half way down the very first tree he climbed, one where he was 50 feet up, because he didn't set his spikes correctly and grabbing the bark for all that he was worth. Like the farmers in the poem, he learned his trade the hard way.
Fortunately, there are more safety protocols and safer equipment today than in Frost's time. Everyone went home in one piece.