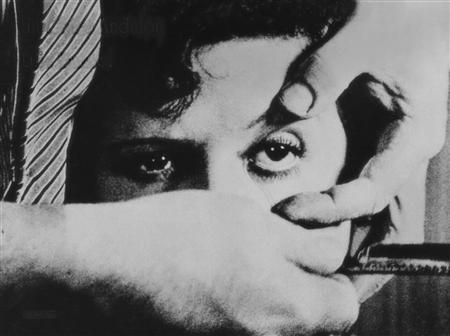 Thursday
I am undergoing a second cataract surgery today and so am reposting the essay I wrote following my first (successful) surgery. I don't expect to re-experience the same mixed feelings that I described two years ago, but dramas that feature sharp objects poked into people's eyes still seem relevant. This essay is not for the squeamish.
Reposted from Feb. 5, 2017
Last week I had cataract surgery and was startled to discover that I had mixed feelings afterwards. Although I liked going around without glasses, I also felt naked, as though I had lost an essential part of myself.
I started wearing glasses when I was 12. At the time I desired glasses because my father wore glasses. I idolized him and wanted to be like him in every way, even down to an inner ear disorder he had.
The glasses worked just fine until last year, when reading suddenly became a challenge. Sometimes I could read better with my glasses on, sometimes when they were off, but in any event it was never easy. When I started discussing cataract surgery with doctors, disturbing literary images kept popping up. From Oedipus for instance:
He tore the brooches— 
 the gold chased brooches fastening her robe— 
 away from her and lifting them up high 
 dashed them on his own eyeballs, shrieking out 
 such things as: they will never see the crime 
 I have committed or had done upon me! 
 Dark eyes, now in the days to come look on 
 forbidden faces, do not recognize those 
 whom you long for—with such imprecations
 he struck his eyes again and yet again 1
 with the brooches. And the bleeding eyeballs gushed 
 and stained his beard—no sluggish oozing drops 
 but a black rain and bloody hail poured down.
Or Gloucester blinded by Cornwall and Regan in King Lear:
Out, vile jelly.
And then there were all those movies. I thought of the woman blinded by a cossack's sweeping saber in Eisenstein's Odessa steps sequence, a horrific moment that would go on to influence one of the iconic scenes in European surrealism—the slit eyeball in Bunuel's Andalusian Dog—and also the baptism-day Mo-Green-shot-in-the-eye scene in The Godfather.
Okay, I exaggerate. I wasn't really concerned about my eyes being butchered. The passages that had been coming to mind had more to do with my declining eyesight. For instance, Teiresias telling Oedipus,
You have your eyes but see not…
And Kent's words to Lear, a powerful moment where a loyal follower speaks truth to power:
See better, Lear; and let me still remain
 The true blank of thine eye.
So anyway, I had my surgery and began to see better, yet found myself depressed and experiencing a sense of loss. No one warned me that this would follow, perhaps because people adjust quickly enough.
I'm wondering now if I used my glasses symbolically as a buffer against the world, which would explain why I now feel unprotected. Or maybe I associated my glasses with being a professor (my father was a professor), so my anxieties about my forthcoming retirement are compounded by the surgery.
I'm sure I'll be fine. I share the story here, minor though it is, because my reactions caught me by surprise.
Yet another quotation: This is from Marlon James's Black Leopard, Red Wolf, which currently has me in its thrall. The narrator has been attacked in a prison cell at night by four men determined to kill him:
The third man danced with his feet and fists, like a night fly, whistling like a mosquito. Made a fist I did, then stuck two fingers out, like rabbit ears, Jabbed his left eye in the quick and pulled the whole thing out. He screamed. Watching him bawl on the floor, searching for his eye, I forgot the other two men.
Okay, I've freaked myself out and don't think I'll revisit the gruesome scene in Jerzy Kosinski's Painted Bird. Wish me well.