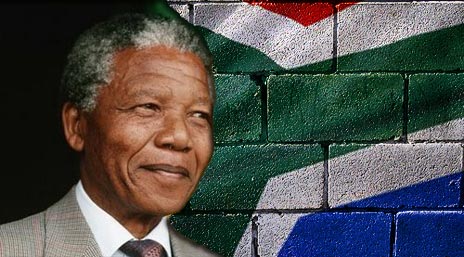 In honor of Nelson Mandela, who died yesterday, I share a poem by Andrew Motion, Great Britain's former poet laureate. Writing in 2000, Motion celebrates how Mandela proved to be the leader that all hoped he would be. As Motion puts it, he "gave each
 human hope its chance
 of turning into truth and 
staying true."
I am also reprinting a post on how Mandela and fellow inmates turned to Shakespeare when they were in the Robben Island prison.
To Nelson Mandela: A Tribute
By Andrew Motion
That straight walk from the

prison to the gate -

that walk the world saw, and

which changed the world -

it led you through to life from

life withheld,

from broken stones with your

unbroken heart.
To life which you imagined

and then lived,

which once we shared in your

imagining

but soon shared in the

present that you shaped:

the life which gave each

human hope its chance

of turning into truth and 

staying true;

the life which understood

what changing takes;

the life which showed us we

become ourselves

in part by watching you

becoming you.
Shakespeare, a Lifeline for Those in Prison, reprinted from Dec. 27, 2012
My Shakespeare colleague Beth Charlebois, who has worked to connect prisoners with Shakespeare, referred me to a fascinating article about how South African freedom fighters found solace in Shakespeare plays when imprisoned by the apartheid regime.
David Schalkwyk, director of research at the Folger Shakespeare Library in Washington and editor of the Shakespeare Quarterly, has written about a Shakespeare edition belonging to prisoner Sonny Venkatrathnam. The text circulated through the prison and different men signed their names next to passages that spoke to them. He cites the following examples:
On Dec. 16, 1977, Nelson Mandela signed next to these lines: "Cowards die many times before their deaths; / The valiant never taste of death but once." [from Julius Caesar]
Walter Sisulu, another African National Congress leader and close confidant of Mandela, put his name beside a passage in The Merchant of Venice, in which Shylock talks about the abuse he has taken as a Jewish money-lender: "Still have I borne it with a patient shrug / For sufferance is the badge of all our tribe."
And Billy Nair, who went on to become a member of Parliament in the new South Africa, chose Caliban's challenge to Prospero from The Tempest: "This island's mine, by Sycorax my mother / Which thou tak'st from me."
Schalkwyk notes that they didn't only read Shakespeare:
The prisoners were avid readers of novels, histories, poetry and plays. Mandela's favorite authors included Clausewitz, Tolstoy and Dickens. Impressed by the depth and relevance of Greek tragedy, he played Creon in a famous Robben Island performance of Antigone.
Ahmed Kathrada, who signed his name in Venkatrathnam's book beside the passage "Once more into the breach," from Henry V, filled his prison notebooks with quotations from Donne and Herbert, Euripides and Sophocles, Lewis Carroll and Charlie Chaplin. The Chaplin entry dismisses Shakespeare for being elitist and irrelevant. Even so, as Kathrada told a Mandela biographer, "Somehow Shakespeare always had something to say to us."
Schalkwyk is so intent on emphasizing the universality of Shakespeare that he doesn't explore this criticism. He could have noted that two of the prisoners identify with Shakespeare villains (Shylock and Caliban) and that they might well have associated Shakespeare with the South Africa's establishment order. (Jorge Luis Borges, in "Theme of the Traitor and the Hero," has Irish nationalists refer to the Bard as "the English enemy Shakespeare.") Of course, Shakespeare is to be given credit for fully realizing his antagonists so that rebels could find themselves in them, but it does explain why, after getting out of prison, the prisoners would (somewhat to Schalkwyk's puzzlement) no longer embrace Shakespeare. Some didn't even remember reading him, a fact that Schalkwyk chalks this up to their changed situation:
Some ex-prisoners, including Kathrada, have said they no longer recognize themselves in the passages that bear their signatures, or that they now prefer other plays, sonnets or speeches. But that shouldn't be surprising. One's relationship with literature is always in flux, a product of personal history, social situation and common conversation. Venkatrathnam's Robben Island "Bible" isn't so much a reminder of the importance of one book or of Shakespeare but rather of how the humanities are akin to the air we need to stay alive.
But although he must qualify his comments on Shakespeare's impact, I think Schalkwyk is still correct when he says that Shakespeare "remains the best record we have of everything that continues to make us human."