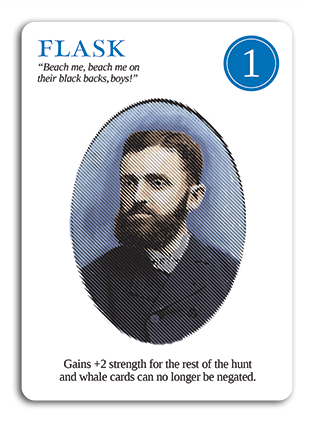 Friday
I learned yesterday from my office neighbor John Gatta that Starbucks Coffee is named after the first mate aboard the Pequod in Moby Dick. Predictably, that got my mind spinning and I have concluded that the company is misnamed. We should be hankering after Flask coffee.
That's because Flask is the mate who doesn't sit down and linger over. Rather, like many Starbucks consumers, he is a man on the go. He only gets to eat after Captain Ahab, Starbucks, and second mate Stubbs have been served, and he must have finished his meal before Stubbs decides he's done:
Flask was the last person down at the dinner, and Flask is the first man up. Consider! For hereby Flask's dinner was badly jammed in point of time. Starbuck and Stubb both had the start of him; and yet they also have the privilege of lounging in the rear. If Stubb even, who is but a peg higher than Flask, happens to have but a small appetite, and soon shows symptoms of concluding his repast, then Flask must bestir himself, he will not get more than three mouthfuls that day; for it is against holy usage for Stubb to precede Flask to the deck. Therefore it was that Flask once admitted in private, that ever since he had arisen to the dignity of an officer, from that moment he had never known what it was to be otherwise than hungry, more or less.
If not a Starbucks customer, Flask sounds like he would make a great Starbucks barista. The stable and cautious Starbuck, by contrast, doesn't have the energy that the coffee company strives for.
"Call me Flask," I imagine the company initially announcing. And then realizing this would send the wrong message.