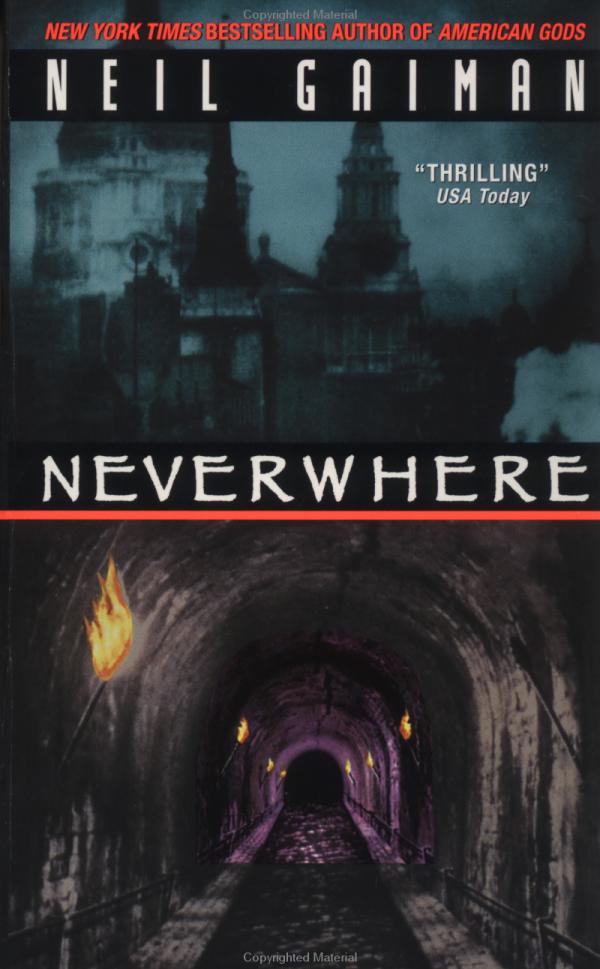 Wednesday
After teaching Neil Gaiman's Neverwhere in my British Fantasy class, I'm coming to understand the attraction of steampunk fantasy. If this genre confuses you, then today's post is for you.
Although I prefer Gaiman's other major works, I wanted a novel that broke with the Tolkienesque tradition of rural medieval fantasy. For a long time, such narratives ruled the fantasy world. In the 19th century, for instance, there were The Eve of St. Agnes, George McDonald's Princess and the Goblin novels, Tennyson's Idylls of the King, and William Morris's Well at the World's End. Lord of the Rings, with its mammoth influence, pulled everything into its orbit, and was followed by Lewis's Narnia series, Ursula LeGuin's Earthsea tetralogy, Robin McKinley's works, and, more recently, Game of Thrones. Dirty urban landscapes seemed an anathema to fantasy as it was understood. It would be like Mordor replacing Lothlorien as the spiritual center.
Steampunk is a deliberate challenge to Middle Earth. Perdido Street Station author China Mieville loudly proclaims he detests Tolkien as he creates a polluted London filled with mad scientists, unscrupulous entrepreneurs, and strange creatures.
Wikipedia defines steampunk as "a subgenre of science fiction or science fantasy that incorporates technology and aesthetic designs inspired by 19th-century industrial steam-powered machinery." Often the characters wear clothing to match. Steampunk's emergence, in my opinion, signals that we've moved into new historical terrain, where cyber technology is making us nostalgic for technology that we can touch and smell.
Traditional rural fantasy defined itself against industrial society and against modernity generally. Tolkien famously sought to escape the horrors of mechanized warfare that he encountered in the World War I trenches, longing for the country simplicity of the Shire and the return of the Ents. It's not that technology is absent from Tolkien's novels since, after all, medieval ironwork was very advanced at one point in history. But swords, no matter how lethal, come across as almost quaint when contrasted with gunpowder.
Cyber technology plunges us into a very different world. Steam engines and zeppelins appear as archaic as maces and crossbows. At a time when one can instantly access any music in the world, scratchy vinyl records are cool again.
One sees the transition underway in a fantasy work that, while not steampunk, is nevertheless illuminating. In Terry Pratchett's Raising Steam, we see the characters enthralled with the invention of the locomotive. In other novels, Pratchett has nomes and goblins learning to master automobiles and telegraph communication.
But Pratchett's works are still situated mostly in the country. Gaiman's Neverhwere, on the other hand, takes place largely within the London sewer system, along with all the smells, crud, and rats that one might expect to find there.
The novel is a portal fantasy with the major character, a colorless stock analyst named Richard Mayhew, aiding a woman named "Door" (it doesn't get more portal than that) and suddenly finding himself in "London Below." While there, Richard encounters various Victorian street characters and gothic monsters. As in any journey of the hero, he discovers previously unknown inner strengths.
History major Rachel Sonnenberg was fascinated by Gaiman's "floating market," which moves from one locale to another. As she notes, it contrasts with our anonymous commercial transactions, where as often as not we buy things on line without ever interacting with an actual person. Not so in London Below:
[W]hen Richard first arrives, "[he] stood there, alone in the throng, drinking it in. It was pure madness. Of that there was no doubt at all. It was loud, and brash, and insane, and it was, in many ways, quite wonderful." Gaiman goes on to describe the market in detail, letting his readers soak in its splendor. With "a dozen different kinds of music, being played a dozen different ways on a score of different instruments," the Market is a place filled with variety rather than monotony. The vendors themselves are unique. Rather than simply selling the basic sorts of goods that would be available at your stereotypical market in London Above, there are stands such as "Old Bailey's for Information," and even a lady selling garbage, calling out, "Crap, tripe, and useless piles of shit. You know you want it."
At these unique vendors, the people of London Below use a bartering system. While in modern society transactions have become impersonal, in London Below the bartering makes trade a physical, interpersonal act. Without money, the transaction is entirely in the hands of the buyer and the seller. Furthermore, an object's value is entirely dependent on what  the two people determine. There is no third party or large corporation involved in the transaction:"Everybody was buying. Everybody was selling." While in modern society we rely on money, in London Below there is no currency. The people of London Below must engage and converse with those they are trading with, rather than simply swiping a card without lifting up their heads.
All fantasy, I periodically tell my students, is relational, often functioning as a critical commentary on the world as it is. When that world changes, fantasy changes. Expect a lot more urban fantasy in the years to come.