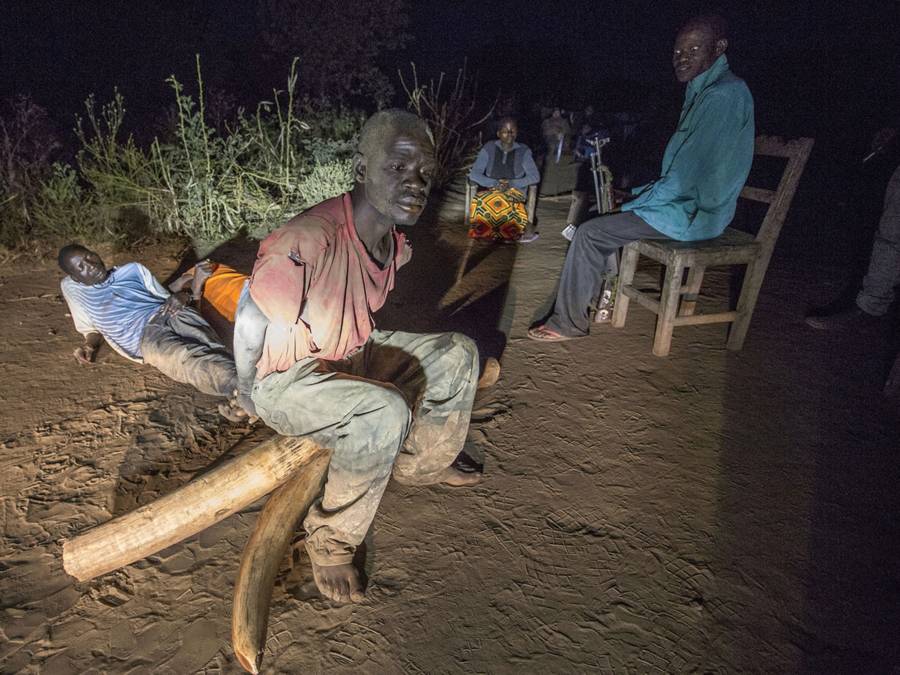 Friday
I found myself enjoying a recent news report about animals striking back. First an elephant killed a South African rhino poacher before he could do any damage and then the man's body was eaten by lions. As someone tweeted, the animals had each other's backs.
D. H. Lawrence vents our rage against such poachers in his poem "Mountain Lion." Although I share his anger, however, the poem arrives at an extreme conclusion that has me questioning some of my sentiments. "I think in the world beyond, how easily we might spare a million or two of humans/ And never miss them," Lawrence reflects.
Mountain Lion
CLIMBING through the January snow, into the Lobo canyon
 Dark grow the spruce-trees, blue is the balsam, water sounds
   still unfrozen, and the trail is still evident.
 
 Men!
 Two men!
 Men! The only animal in the world to fear!
 
 They hesitate.
 We hesitate.
 They have a gun.
 We have no gun.
 
 Then we all advance, to meet.
 
 Two Mexicans, strangers, emerging out of the dark and snow
   and inwardness of the Lobo valley.
 What are they doing here on this vanishing trail?
 
 What is he carrying?
 Something yellow.
 A deer?
 
Qué tiene, amigo?--
León--
 
 He smiles, foolishly, as if he were caught doing wrong.
 And we smile, foolishly, as if we didn't know.
 He is quite gentle and dark-faced.
 
 It is a mountain lion,
 A long, long slim cat, yellow like a lioness.
 Dead.
 
 He trapped her this morning, he says, smiling foolishly.
 
 Lift up her face,
 Her round, bright face, bright as frost.
 Her round, fine-fashioned head, with two dead ears;
 And stripes in the brilliant frost of her face, sharp, fine
   dark rays,
 Dark, keen, fine rays in the brilliant frost of her face.
 Beautiful dead eyes.
 
 Hermoso es!
 
 They go out towards the open;
 We go on into the gloom of Lobo.
 And above the trees I found her lair,
 A hole in the blood-orange brilliant rocks that stick up, a
   little cave.
 And bones, and twigs, and a perilous ascent.
 
 So, she will never leap up that way again, with the yellow
   flash of a mountain lion's long shoot!
 And her bright striped frost face will never watch any more,
   out of the shadow of the cave in the blood-orange
   rock,
 Above the trees of the Lobo dark valley-mouth!
 
 Instead, I look out.
 And out to the dim of the desert, like a dream, never real;
 To the snow of the Sangre de Cristo mountains, the ice of
   the mountains of Picoris,
 And near across at the opposite steep of snow, green trees
   motionless standing in snow, like a Christmas toy.
 
 And I think in this empty world there was room for me
   and a mountain lion.
 And I think in the world beyond, how easily we might
   spare a million or two of humans
 And never miss them.
 Yet what a gap in the world, the missing white frost face
   of that slim yellow mountain lion!
As Lawrence sees it, humans can never achieve the nobility of that mountain lion, especially if they are shame-faced Latinos. They are too bound up in fallen humanity, and we loathe ourselves when we recognize a kinship with them. (Like them, we smile foolishly.) There is no place for humanity in this dream-like landscape.
Note the poems many images of natural purity in addition to the lion, including "green trees motionless standing in snow, like a Christmas toy." Lawrence is so angry at desecrated purity that he fantasizes wielding a vengeful gun, if only he had had one. It is his own lost innocence that he mourns.
People are capable of extreme positions when innocence is sullied. In the Jim Crow south, racists obsessed over blacks violating the honor of white womanhood. Pro-life activists see defending fetuses as a sacred cause, even though they then lose interest once the fetuses become three-dimensional human beings. (Note conservatives' lack of interest in children born into poverty.) Some saw America desecrated when it elected a black president.
I generally like Lawrence as a poet but his sentiments here are troubling. Returning to the rhino poacher story, then, I am ashamed of my initial response. I'm glad the man failed in his goals and I am even willing to believe he brought his fate upon himself. The poem, however, alerts me to how quickly I wrote off his humanity.
Bonus Poem
As we're on the subject of poached rhinoceroses, here's a fine poem by my father Scott Bates about the reason they're endangered:
Rhinoceros Poem
Rhinoceroses are becoming extinct.
Poachers are killing them by the hundreds for their horns.
Rhinoceros horns are very valuable on the black market.
Why are they valuable? Because of sex of course,

Because of macho old men and the one thing they dread
Which is sex failure. Fiasco. Not getting it up.
Rhinoceroses are powerful, their horns are stiff and hard
And when ground into powder and mixed with lots of older stuff

They are swallowed by doting old men who think they 
   can become potent again
In spite of the fact that, scientifically, the whole business 
   doesn't make any sense;
Yet if they think they can, sometimes they can:"The powder 
   occasionally works as a restorer of confidence."

But it lets you down fast. Which basically proves a vast, horny 
   lack of imagination in the world,
An idiot inability to take life simply as it comes
And move with Rhinoceros grace through complicated 
   jungles of muscle and nerve
Making love with everything you have, rheumatic ears 
   and elbows, arthritic knuckles and thumbs

In elemental equatorial delight. Because, after all, who wants 
   to go to bed anyway with a worried old man?
Generations of women have proved that sex can be rewarding 
   and a lot of fun too
If you aren't drinking Rhinoceros juice by the gallon and 
   hung up on whether or not you can
And forget about being a conquering hero and start doing 
   what is most enjoyable for both of you to do.

So men, especially wealthy old men who can afford to buy 
   Rhinoceros horns,
Take it easy. Relax. Stop acting like such horses' asses.
Make love with what you have; you'll get many more happy returns,
And she'll like you all the more and you'll save 
the Rhinoceroses.