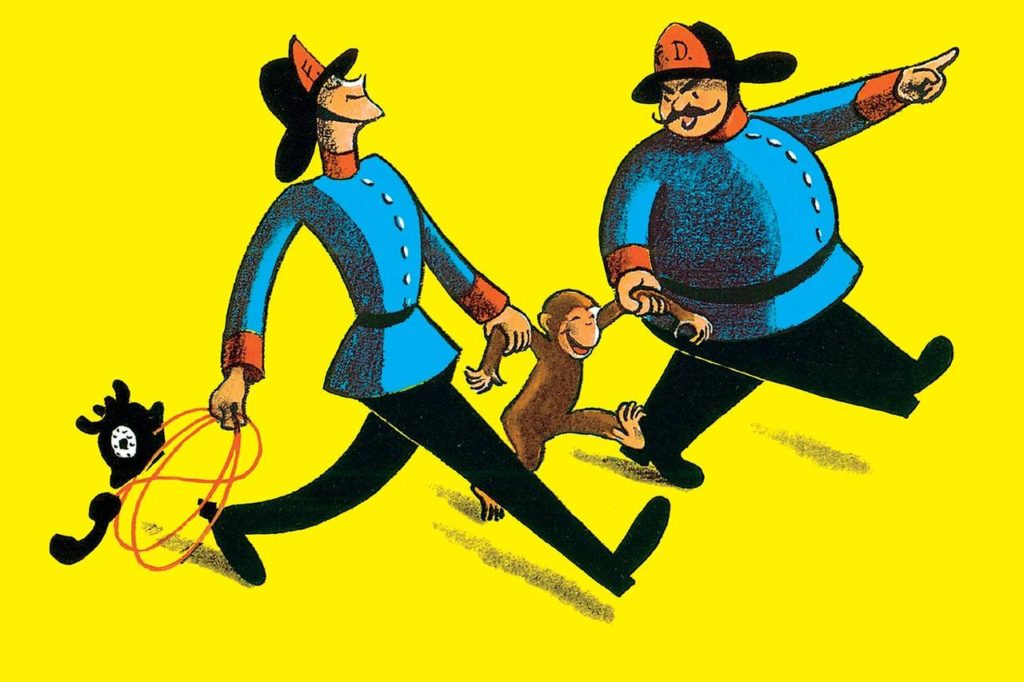 Monday
A recent New Yorker article about "Curious George" forces us to rethink the beloved children's classic. While at first glance, Rivka Galchen points out, it uncomfortably echoes the Middle Passage, it actually grew out of a different atrocity. Authors Hans and Margret Rey were Jews fleeing the Germans as they invaded France.
The Reys escaped Paris on bicycles and ultimately arrived in New York without their luggage but "with a tremendous sense of their extraordinary good fortune, their ultimate safety." Not surprisingly, then, George has his own dramatic adventures:
[P]hysical peril is a constant: George floods a house, gets carried off by a kite, breaks a leg, crashes on a bike. The other constant is the reliably happy ending.
These happy endings echo one version of the American Dream:
[The books are] suffused with a reassuring and almost fantastical sense of wealth: when George makes it to the city, he is given a pipe, nice striped pajamas, and a cozy, golden child-sized bed in which to sleep.
"Curious George" was not the only comforting children's classic birthed by the tumultuous events of World War II, Galchen observes:
The Finnish writer Tove Jansson also turned to writing for children at nearly the same historical moment. Jansson had been a brilliant political cartoonist; the winter the Soviet Union invaded Finland, she began writing and illustrating a gentle story about a family of hippo-like woodland creatures, called Moomins, who are escaping a flood. The Moomins eventually absorbed most of Jansson's artistic energy, as they faced comets, drank whiskey, lived in lighthouses, and took in easily frightened ghosts. And Michael Bond wrote the story of Paddington—"Please look after this bear. Thank you."—after having seen Jewish refugee children arriving at London's railway stations with signs around their necks. These stories are written not necessarily for children under duress but, instead, by adults who are themselves in duress, and who now prefer to devote their time to making children happy.
Galchen's initial concern about George's abduction got me thinking about Ariel Dorfman's critique of Babar's similar journey. In Dorfman's view, the beloved Jean de Brunhoff story functions as a colonialist parable about the superiority of the west. Babar leaves for Paris naked and returns clothed to civilize his fellow elephants.
Dorfman's critique is vigorously disputed by New Yorker's Adam Gopnik, who argues that it's a comic send-up of French civilization, not a defense of it. I don't aim to go into the debate here, however, but rather share Gopnik's fascinating conclusion about the difference between French, British and American children's literature. National history leads to different narrative arcs:
In London, in children's books, life is too orderly and one longs for the vitality of the wild; in Paris, order is an achievement, hard won against the natural chaos and cruelty of adult life; in New York, we begin most stories in an indifferent city and the child has to create a kind of order within it. Each of these schemes reflects a history: the English vision being a natural consequence of a peaceful nation with a reformist history and in search of adventure; the French of a troubled nation with a violent history in search of peace; and the American of an individualistic and sporadically violent country with a strong ethos of family isolation and improvised rules.
For England, Gopnik mentions Wind in the Willows, Mary Poppins, and The Hobbit. For France and America, he chooses works set in Paris and New York. Madeleine's violent encounter with an inflamed appendix matches Babar's traumatic loss of his mother to a hunter or his and Celeste's kidnapping by a circus. The American books are From the Mixed-Up Files of Mrs. Basil E. Frankweiler, The House on East 88th Street, Stuart Little, The Pushcart War, and Harriet the Spy. In France, "to stray from built order is to confront the man with a gun." In America, "Everything turns on the individual child and her ability to create a safe miniworld of her own within the big chaotic city."
When adults successfully turn their own dramas into children's stories, we end up with timeless classics.