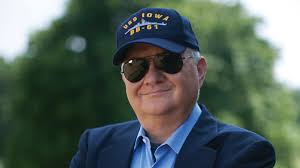 Tuesday
Although I don't often write about authors like Tom Clancy, his mention in connection with the recent assassination of Qasem Soleimani warrants some reflection. According to Malcolm Nance, former naval officer and intelligence expert, Tom Clancy has, at the very least, given Donald Trump and the neocons a narrative framework for the killing.
Following the incident Nance tweeted,
Trump is executing Tom Clancy's "Ryan Doctrine" which was all foreign leaders will be killed if they sponsor a terrorist attack. Soleimani is literally the last page of Executive Orders where Jack Ryan orders CIA to assassinate leader of Iran during a speech announcing doctrine.
Nance is no fan of Soleimani, having fought against his operatives in the Middle East in the 1980s. Nevertheless, as Commander of the Islamic Revolutionary Guard Corps—which Nance says is comparable to a combination of the Chairman of the Joint Chiefs of Staff and the Vice President of the United States—Soleimani was too big to take out. It breaks international norms, resembles too closely Israel's targeted assassinations, heightens the risk of war, and makes Americans less safe.
Nance elaborated on his Clancy observation over the weekend for MSNBC's Joy Reid. The intelligence community, Nance said, has the acronym TCCC, for Tom Clancy Combat Concepts. This applies to those instances when a civilian decision maker reads something in a Tom Clancy novel and tries to pass it off as the basis for a political decision. In Executive Orders, President Jack Ryan orders the killing of an Iranian Ayatollah.
Since I haven't read any of Clancy's novels, even though he was a big favorite in the Maryland county where I taught (where there was a Naval Air Force base and where long lines formed whenever he came to the area for a reading), I turn to the responses that Nance's tweet elicited. The general consensus appears to be that Clancy's early novels were excellent but have in recent years become too tainted with ideology. For instance, Grant Stern responded,
I loved his novels until The Bear and the Dragon, when President Ryan bellicosely started a war and bragged about it, like a power drunk neo-con. Clancy's (d)evolution matched the GOP.
Genre novels are capable of embracing the complexity of life (witness Jane Austen's romance novels), but when they become formulaic or opt for cheap fantasy, they can become reactionary, if not dangerous. Rather than stimulating thought, they generate emotional venting. Bertolt Brecht leveled this charge against the sentimental bourgeois theater of his day, and it can be leveled against Clancy's fiction today.
The difference between great literature and lesser is that the former always appeals to more than base impulses. It appeals to the head and the soul as well as to the emotions. It calls upon us to think things through and to invoke a higher ethical perspective.
I don't know that the major decision makers in the Soleimani assassination–Trump, Vice President Mike Pence, and Secretary of State Mike Pompeo–read Clancy novels. Nance admits that it may be just coincidence that the killing follows the Ryan Doctrine so closely. Nevertheless, the novels contribute to a world view that appears to have taken over the White House.
It's hard to overstate just how dangerous this all is.