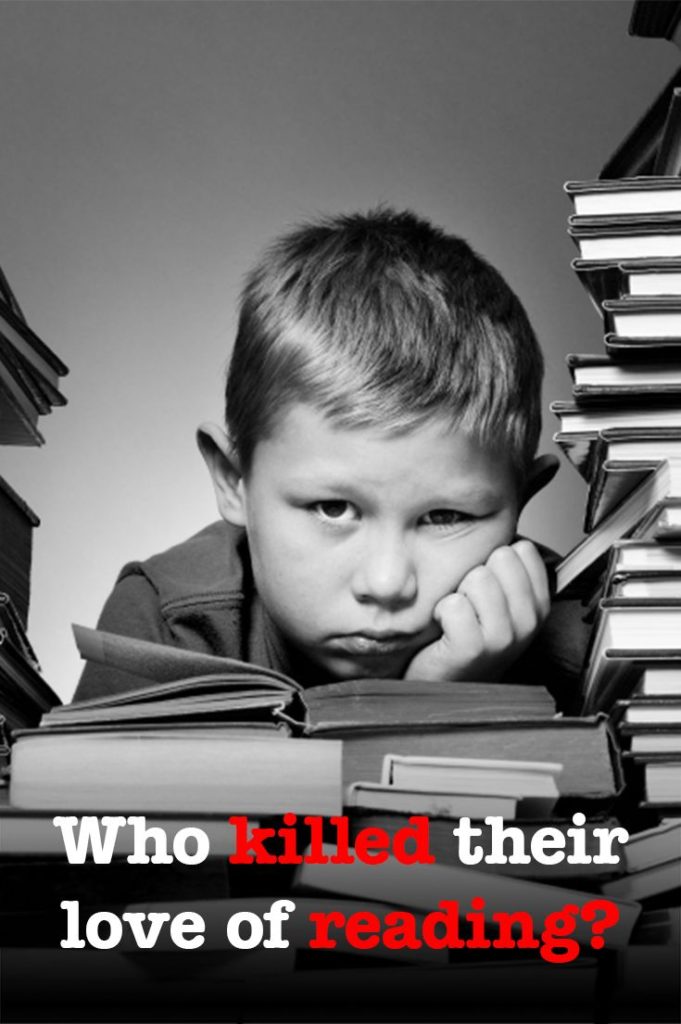 Tuesday
A recent blog essay by an elementary school teacher has me revisiting some of my boring English classes at Sewanee Public School, which I attended for grades 1-7. Tony Sinanis argues that the assignments that teachers traditionally attach to reading cause students to hate reading.
Sinanis switches hats from teacher to dad as he sets up his argument:
This post is not directed at any specific teacher, school or leader because I know everyone is working hard and that most are doing what they think is best for kids. This post is not an attack on ELA or reading teachers because I know they are trying to help kids grow as readers. Instead, this post is a plea from me, Tony the dad, who has watched his son's love of reading be pushed to the brink of extinction. I am not blaming any specific teacher or practice I am just pleading my son's case. You see, Paul has always loved reading – from the time he was 18 months old – and he could literally get lost in a book for hours at a time. He would sit, curled up on the couch, and get so immersed in book that all we would hear is laughter, oooohhhs or aaaaahhhs based on what he was reading. He would zip through entire series in a matter of days and would beg for trips to Barnes and Noble or the library. He would tell us all about the characters and their adventures. But as he progressed in school, that love for reading started to change.
While acknowledging that electronic gadgets might play some role, Sinanis thinks that the major culprits are
–Reading logs;
–Written responses;
–Book reports;
–Reading passages just to answer multiple choice questions;
–Close readings that involve studying the same book for months.
While such assignments didn't kill my own love of reading, I do remember being confused by my English classes. The stories in our textbook were nowhere near as interesting as the stories I read at home, and, to make matters worse, they had these inane questions at the end of them. When I was older, I would compare the experience to eating a bad meal, with the questions being the indigestion that followed.
But I didn't have to wait until later in life. Even at the time, my eight-year-old brain came up with a theory. I concluded that there were two kinds of reading in the world, real reading and school reading. Being a dutiful child, I went along with school reading but remember being bored. Not until high school, when suddenly I got to read The Iliad (the wonderful Fitzgerald translation) and The Odyssey (a less engaging prose translation) did I have positive associations with "English."
My own kids had similar experiences but there were notable exceptions. Their second grade teacher—both of them had the same one—used to read aloud in class every day and the entire class was enthralled. I remember them coming back from school excited about The Mouse and the Motorcycle. Given that I read aloud to my kids up through middle school, I could imagine middle school and even high school teachers generating excitement through reading aloud.
Here are Salamis's recommendations:
1) Let kids just read what they want to read; choice is a powerful incentive.
2) Let kids talk about what they are reading… book talks are awesome ways to hook other readers and spread book love.
3) Don't attach an assignment to every reading activity.
4) Books don't have to be the only thing kids read.
5) If an assignment has to be attached to a reading activity (for accountability purposes), give the kids choices about what they might do.
6) Confer with kids – talk to them about what they are reading and use that data to help our kids set their own reading goals so they get better.
7) Don't make kids read one novel for months at a time and if you must do this, make it engaging!
To this I would add that parents have plenty of options at home in addition to reading aloud. Regularly visiting libraries and researching books that your kids might like is a good start. Then there are multiple ways that one uses literature to stimulate conversations, from the simple ("who was your favorite character") to the imaginative ("what do you think Frodo would do in this situation?").
It worked with my kids, one of whom is a businessman who reads Moby Dick on the train to work and the other is an English professor who reads at a deeper level than I did at his age. Of course, I'm an English teacher, but I plugged into my playful side more than my teaching side when I was raising them. Or rather, kids learn through play and so that's the best way to reach them.
After all, literature is a form of play and was never designed for Gradgrindian exercises. Parents and English teachers alike should be able to take advantage of that.