Thursday
I'm back home after a scare. As I reported yesterday, I was flown to the MedStar Washington Hospital Tuesday afternoon because the doctors feared I was having a heart attack. Once there, however, I learned that I had pericarditis, which they treated and then sent me home 24 hours later. I am tired but otherwise feel normal.
The doctors are mystified by what triggered the attack, which puts them in the same category as the doctors in the poem I share with you today.
The experience had two very different phases. The first one was agonizingly slow. First I was awakened by intense pain in the middle of a night that never seemed to end. This was followed by a 10 am doctor's appointment that involved a 30 minute wait; a slow 10-mile drive up the road (so I wouldn't have an accident); and an EKG exam that involved a 90 minute wait.
Then, once the nurse saw the test results, everything speeded up. I was hurried to the emergency room, strapped onto a stretcher while they shouted questions at me (including how I would rate my pain), put in a helicopter, and rushed to the hospital. There I was greeted by three doctors who shouted more questions as they inserted a catheter. I had the experience that Christopher Robin, for whom I was named, has when he comes down with wheezles and sneezles:
Christopher Robin 
Had wheezles
And sneezles,
They bundled him 
Into 
His bed.
They gave him what goes
With a cold in the nose,
And some more for a cold
In the head.
They wondered
If wheezles
Could turn
Into measles,
If sneezles 
Would turn
Into mumps;
They examined his chest
For a rash,
And the rest
Of his body for swellings and lumps.
They sent for some doctors
In sneezles
And wheezles
To tell them what ought
To be done.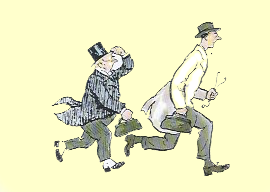 All sorts and conditions
Of famous physicians
Came hurrying round
At a run.
They all made a note
Of the state of his throat,
They asked if he suffered from thirst;
They asked if the sneezles
Came after the wheezles,
Or if the first sneezle
Came first.
They said, "If you teazle
A sneezle
Or wheezle,
A measle
May easily grow.
But humour or pleazle
The wheezle
Or sneezle,
The measle 
Will certainly go."
They expounded the reazles 
For sneezles
And wheezles,
The manner of measles
When new.
They said "If he freezles
In draughts and in breezles,
Then PHTHEEZLES
May even ensue."
I was one of the lucky patients in that I duplicated Christopher Robin's subsequent experience. The anti-inflammatories did their miraculous work, and I am back at home now, thinking of the past 36 hours as a bad dream:
Christopher Robin
Got up in the morning,
The sneezles had vanished away.
And the look in his eye
Seemed to say to the sky,
"Now, how to amuse them to-day?"
My thanks to all of you who wished me well–to my wife Julia, who flew up from Tennessee; to my colleagues who covered my classes; to my friends Chris and Jean, who picked us up at the hospital; and to all who sent notes and put me in their prayers. The sneezles have in fact vanished away.