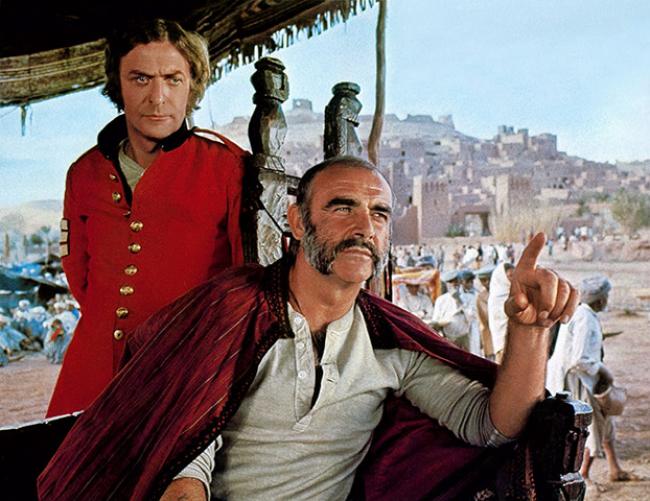 Friday
The Trump news out of Ukraine keeps getting stranger. Apparently the president's personal attorney, Rudolph Giuliani, wasn't only attempting to extort the government on his boss's behalf. He was also working to overthrow the incorruptible head of Ukraine's national gas company in order to get a piece of that action. Energy Secretary Rick Perry appears to have been involved as well.
The former mayor of New York reminds me of the two scoundrels in Rudyard Kipling's The Man Who Would Be King (1888), who set out to become kings of an Afghanistan province. They are temporarily successful and apparently Giuliani almost pulled off his scheme as well. Washington Post's Philip Bump informs us that, "[b]ut for two news articles, President Trump's strong-arming of Ukraine probably would have worked":
His administration halted aid to Ukraine in mid-July, a week before the July 25 call in which Trump directly pressed Ukrainian President Volodymyr Zelensky to open two investigations that would benefit Trump politically. The first was aimed at former vice president Joe Biden, with Trump asking for a probe of a company for which Biden's son Hunter once worked. The second was aimed at building a case for Ukrainian interference in the 2016 presidential campaign.
At this time, Trump's leverage was a White House meeting the Ukrainians desperately wanted. Later it would become the $400 million in aid that Congress had appropriated. To attain his ends, Giuliani first had to get Ukrainian ambassador Marie Yovanovic fired, which he did. Then he pressured the Ukrainian president:
Zelensky and his team struggled with a choice articulated by Andrew Kramer of the New York Times: "whether to capitulate to President Trump's demands to publicly announce investigations against his political enemies or to refuse, and lose desperately needed military aid."

Zelensky — who won election as an anti-corruption reformer — decided to capitulate. He'd announce the investigations in an interview with CNN on Sept. 13, Kramer said. The Ukrainians told [EU ambassador and presidential intermediary Gordon] Sondland on Sept. 8 and he shared it with [Ukrainian ambassador Gordon] Taylor.
At that point, however, a CIA whistleblower exposed the scheme, and his warning was confirmed by the edited transcript of Trump's call with Zelensky. Once the story became a scandal, Ukraine had the cover it needed to cancel the interview.
Very early in Kipling's story, we hear of fortune hunters entering parts of India to blackmail local officials. The narrator reports that "[t]hey lead a hard life, and generally die with great suddenness."
The narrator meets the two who would be kings when they stop by his newspaper office to check out his maps. They inform him of their destination:
We have slept over the notion half a year, and require to see Books and Atlases, and we have decided that there is only one place now in the world that two strong men can Sar-a-whack [take a whack at something]. They call it Kafiristan. By my reckoning its the top right-hand corner of Afghanistan, not more than three hundred miles from Peshawar. They have two and thirty heathen idols there, and we'll be the thirty-third. It's a mountainous country, and the women of those parts are very beautiful."
They have a plan as well:
And that's all we know, except that no one has gone there, and they fight, and in any place where they fight a man who knows how to drill men can always be a King. We shall go to those parts and say to any King we find — 'D' you want to vanquish your foes?' and we will show him how to drill men; for that we know better than anything else. Then we will subvert that King and seize his Throne and establish a Dy-nasty.
As it turns out, the two men are successful beyond their wildest dreams. First, they disguise themselves as a mad priest and servant to smuggle arms across the border. (Giuliani got in as the president's lawyer and a State Department envoy.) Then, through luck and daring, they become kings, only to see their fortunes turn once again. One is pitched over a cliff and the other crucified, although he is then released and crawls back to tell his story.
Ukraine is not 19th century Afghanistan, but Americans have become millionaires there, if not kings. First there was Paul Manafort and now there's Giuliani. They may not die with great suddenness, but Manafort is currently in jail and Giuliani may follow him there.
The stories diverge, however, in that one of Kipling's fortune hunters starts taking his kingly duties seriously. He works to improve the lot of his people and, to protect their future, finds a woman to marry. Unfortunately for him, this proves to the people he is not a god and they execute him.
Manafort and Giuliani have never considered acting responsibly. They remain rogues to the end.