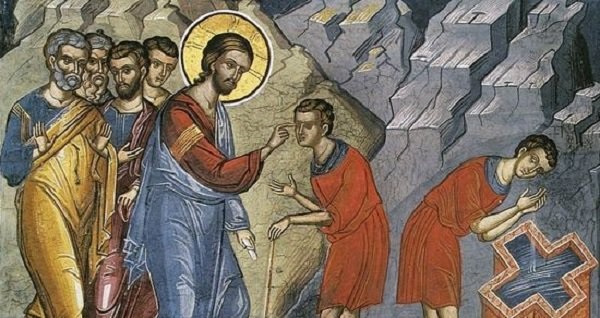 Spiritual Sunday
Today my good friend and occasional contributor to this blog Sue Schmidt shares a sermon, undelivered because of the Coronavirus shutdown. Many have been troubled by Jesus's response to the blind man in John 9:1-14 because he appears to see God as using human suffering to make a point. Sue, however, convincingly argues for a more humane reading of the passage and then points out what we can learn from it as we face the Coronavirus challenge. She accentuates her point with an Edwina Gately poem.
Sue recently graduated from Fuller Theological Seminary with an MDiv and is currently seeking ordination with the United Church of Christ.
By Sue Schmidt, M.Div
The Lectionary reading for today is taken from John chapter 9. The full text (v.1-14) can be found here. Since it's rather long, I'll just post the first seven verses and follow them with some thoughts.
And as [Jesus] passed by, he saw a man blind from his birth. And his disciples asked him, saying, Rabbi, who sinned, this man, or his parents, that he should be born blind? Jesus answered, Neither did this man sin, nor his parents: but that the works of God should be made manifest in him.We must work the works of him that sent me, while it is day: the night cometh, when no man can work. When I am in the world, I am the light of the world. When he had thus spoken, he spat on the ground, and made clay of the spittle, and anointed his eyes with the clay, and said unto him, Go, wash in the pool of Siloam (which is by interpretation, Sent). He went away therefore, and washed, and came seeing.
John's telling of the healing of a blind man begins with what Jesus sees. Interestingly, this man is not calling out to get Jesus's attention, as do other blind men and women we encounter in the Gospels. But as Jesus is walking along, he notices this person and points him out to the disciples.
I wonder what response Jesus is hoping for. Will they suggest that Jesus (or they) offer to bring healing, like they have seen before?
If Jesus is hoping for compassion, the disciples fail miserably. They see instead a lesson in morality involving a question of blame. Who sinned, this man or his parents, that he should be born blind, they ask. (One wonders how an unborn child could be responsible for sin.)
Jesus must be disheartened by their response. I wonder at his tone of voice when he answers: "Neither did this man sin, nor his parents: but that the works of God should be made manifest in him." In other words, Jesus shifts the focus of the conversation from the man's presumed sin to God's present desires for us.
This response, while comforting in that it affirms the blindness is not a result of sin, is discomfiting in that it suggests that God caused the blindness in order that good might result. Many people have been disturbed by this reading of the verse and what it implies about God. But is this the only way to understand Jesus's words?
Wondering if "but that" ("but that the works of God should be made manifest in him") might be translated differently, I found some support from New Testament scholar Gary Burge. In his commentary on the passage (NIVAC, 2000). Burge suggests changing the focus of the clause so that the passage reads:
It was not that this man sinned, or his parents. But so that the works of God might be displayed in him, we must work the works of him who sent me while it is day. Night comes when no one can work.
In other words, rather than the concluding clause of the previous sentence, it is the introductory clause of the next one.
Like many people Jesus encountered, this man offers an opportunity for the works of God to become evident. The disciples, who see this man as problematized by sin and guilt, have missed the opportunity to bring God's light and love into his life. Jesus, on the other hand, is always on the lookout for ways in which he can do the work of his Father.
Being about "his Father's business" is his aim from the age of 12, when he is found discussing theology in the temple with his elders (Luke 2:41-52). As long as Jesus is in the world, he is committed to being the light of the world – bringing truth, hope, and healing to all who will listen to his voice. So it is with this man who, willing to listen to Jesus' voice, adds his actions to those of Jesus and receives God's healing gift.
As we walk through our days, what do we see? What questions do we ask? Are we like the disciples, who judge and moralize what they see as problematic? Ignoring the humanity of the person or community in distress, do we sanctimoniously apportion blame? Or do we have eyes that see opportunities to do the work of God, to bring light and love into the world?
As spring has arrived, our days are turning brighter. Still we are overshadowed with many concerns, including the outbreak of the Coronavirus and the uncertainties concerning our health and our economy. What is our response?
In her poem "Just a Little Difference," Edwina Gately encourages us to listen deeply and learn to hear (and see) what God sees. We can take opportunity of our quietness (enforced isolation) to push back against the fear or loneliness around us and reach out to others. In her own life, Gately made more than just a little difference as she founded both a children's home in Uganda and a home for abused women in Chicago.
Just a Little Difference
Edwina Gately

Ah – A resting place
Where we come to understand
It is not required us of
To wrestle constantly and passionately
With our God—
Nor pursue relentlessly
All God's decrees as we understand them,
But only that we listen and wonder
And hope and pray
That we might, perhaps,
Make just a little difference,
One quiet grey day.