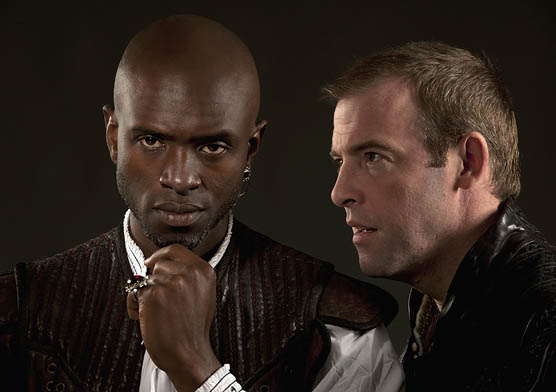 Thursday
On Tuesday, writing for the "Composition and Literature" class that I'm teaching remotely, I opined that Iago is motivated by status anxiety, an identity disorder that lies at the heart of fascism and that has contributed to some of the world's darkest moments. Today I share my theory on why why I think Othello gets taken in.
My aim is not to persuade my students but to model critical engagement for them. They come to the play with their own life experiences and so will focus on their own issues.
How does Iago manage to play this honorable man like a drum? To be sure, Othello isn't the only character that Iago dupes, with Roderigo, Cassio, Desdemona, and Iago's wife Emilia all falling under his spell. But none of these others is so thoroughly manipulated.
I mentioned race as a major factor in Iago's hatred and wonder if it doesn't play a major role in Othello's gullibility as well. I think of him as the outsider who is excited about joining the cool kids, only to discover that they always had it in for him.
Othello makes it into the club (or thinks he does) because of his exemplary military accomplishments. Once a slave, he is now the man that Venice turns to when the Turks attack. His exploits are such as to convince Desdemona to fall in love with him:
Her father loved me; oft invited me;
Still question'd me the story of my life,
From year to year, the battles, sieges,
fortunes,
That I have passed.
I ran it through, even from my boyish days,
To the very moment that he bade me tell it;
Wherein I spake of most disastrous chances,
Of moving accidents by flood and field
Of hair-breadth scapes i' the imminent
deadly breach,
Of being taken by the insolent foe
And sold to slavery, of my redemption thence
And portance in my travels' history:
Wherein of antres vast and deserts idle,
Rough quarries, rocks and hills whose heads
touch heaven
It was my hint to speak,--such was the
process;
And of the Cannibals that each other eat,
The Anthropophagi and men whose heads
Do grow beneath their shoulders. This to
hear
Would Desdemona seriously incline:
But still the house-affairs would draw her
thence:
Which ever as she could with haste dispatch,
She'ld come again, and with a greedy ear
Devour up my discourse: 
One of Othello's happiest moments may be when the Duke of Venice, hearing this account, concludes, "I think this tale would win my daughter too."
For an outsider, experiencing Desdemona's love and the Duke's acceptance appear to be proof that he's arrived. The friendship of Cassio and (seemingly) Iago are further confirmation. All is going well, and Othello's reunion with Desdemona following the Cyprus campaign feels like the final scene in one of Shakespeare's comedies.
It's only Act III, however, and everything goes downhill from this point on. Although Othello appears outwardly confident, one can imagine him being insecure in this new identity.
Iago knows just how to exploit such insecurity. Is Othello's friend Cassio really as friendly as he seems? Iago raises doubts and lets Othello fill in the blanks. Is Desdemona really in love with him? Maybe (as Iago tells Roderigo) the Moor is just an exotic fling that she will tire of in the long run:
It cannot be that Desdemona should long continue her love to the Moor… She must change for youth: when she is sated with his body, she will find the error of her choice: she must have change, she must…
Compounding Othello's insecurity are manhood anxieties. "A horned man's a monster and a beast," says Othello, expressing the fear of being cuckolded. When Othello's fraternity brothers, including even the gentlemanly Cassio, voice demeaning stereotypes of women, the seeds are sown for doubting Desdemona.
Although Othello's view of women appears relatively liberated before joining the group, Iago's peer pressure gets to him. In fact, Iago uses the fact that Desdemona has a mind of her own as proof that she could betray her husband. Iago essentially trains Othello in toxic masculinity, and his impressionable pupil delivers in spectacular fashion.
Othello, of course, should resist such pressure. I'm not excusing him for his horrible deed. But seeing him as an insecure outsider at least helps us understand why Iago's tactics work. Suffering from imposter syndrome, deep down Othello doesn't believe that he could be loved by Desdemona and honored by Cassio. Iago voices Othello's dark self-doubts and tragedy ensues.