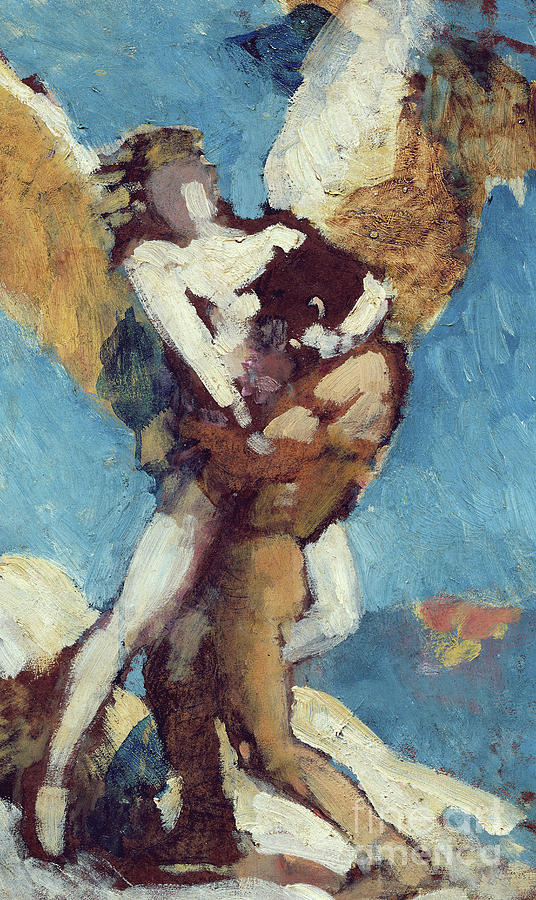 Spiritual Sunday
Poets have been drawn to today's Old Testament reading where Jacob wrestles with the angel, in large part because they can read it as a complex inner struggle. Malcolm Guite imagines Jacob as a troubled soul in one of his sublime sonnets.
First, here's the story:
The same night Jacob got up and took his two wives, his two maids, and his eleven children, and crossed the ford of the Jabbok. He took them and sent them across the stream, and likewise everything that he had. Jacob was left alone; and a man wrestled with him until daybreak. When the man saw that he did not prevail against Jacob, he struck him on the hip socket; and Jacob's hip was put out of joint as he wrestled with him. Then he said, "Let me go, for the day is breaking." But Jacob said, "I will not let you go, unless you bless me." So he said to him, "What is your name?" And he said, "Jacob." Then the man said, "You shall no longer be called Jacob, but Israel, for you have striven with God and with humans, and have prevailed." Then Jacob asked him, "Please tell me your name." But he said, "Why is it that you ask my name?" And there he blessed him. So Jacob called the place Peniel, saying, "For I have seen God face to face, and yet my life is preserved." The sun rose upon him as he passed Penuel, limping because of his hip. (Genesis 32:22-31)
Guite mentions Jacob sending his family on ahead, which means he is alone and stripped of his daily identity markers. Driven inward, he feels guilty about having betrayed his brother, whom he is scheduled to meet the following day. In this desert darkness, God finds him.
God's love simultaneously wounds and heals. When we wrestle forthrightly and passionately with our darkness, we lose a part of ourselves but are compensated beyond all imagining. Daybreak stakes its claim as God provides a new name for us.
That God's love wounds as well as heals reminds me of the paradox that John Donne famously describes in his sonnet "Batter My Heart, Three-Personed God":
Divorce me, untie or break that knot again,
Take me to you, imprison me, for I,
Except you enthrall me, never shall be free,
Nor ever chaste, except you ravish me.
Spiritual struggle is not for wimps. Everything is at stake but, in the end, the angel blesses us.
Previous posts on Jacob and the Angel
Rainer Maria Rilke: The Eternal Doesn't Want to Be Bent by Us
Gerard Manley Hopkins: Wrestling with (My God!) My God
Parable and Paradox

I dare not face my brother in the morning,
I dare not look upon the things I've done,
Dare not ignore a nightmare's dreadful warning,
Dare not endure the rising of the sun.
My family, my goods, are sent before me,
I cannot sleep on this strange river shore,
I have betrayed the son of one who bore me,
And my own soul rejects me to the core.
 
But in the desert darkness one has found me,
Embracing me, He will not let me go,
Nor will I let Him go, whose arms surround me,
Until he tells me all I need to know,
And blesses me where daybreak stakes its claim,
With love that wounds and heals; and with His name.