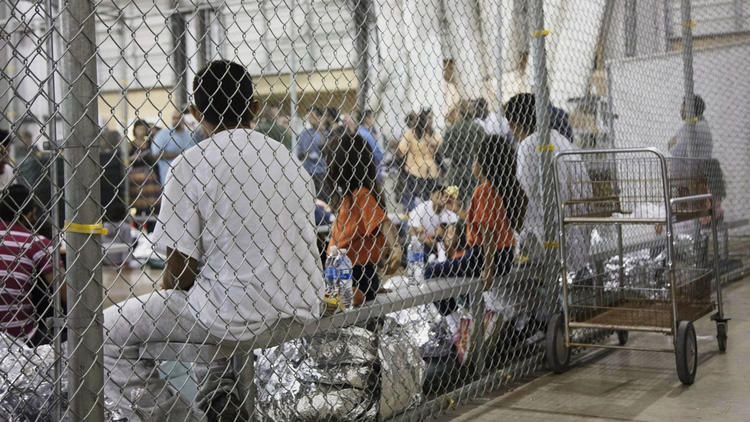 Thursday
To defend the Trump Administration's unconscionable actions on the U.S.-Mexico border, Homeland Security Secretary Kirstjen Nielsen dodged and weaved as the House of Representatives grilled her yesterday. Disregarding conditions that a number of Congress members had witnessed with their own eyes, she insisted that children are not being taken away from their parents and housed in cages and that asylum seekers are not being turned away at the border. One of the most shameful incidents in America's recent history continues on unabated.
Appropriate for the situation is one of the pieces performed by St. Olaf's choir earlier this semester in Sewanee. The lyrics for "The Hungry Angels," was written by Philip L. White, the music by Robert A. Harris. The children could be Syrian refugees or Yemen's starving populace as well as those fleeing violence in Guatemala and Honduras. Whoever they are, they have been "born in jeopardy, reared in adversity, matured in uncertainty." While those in U.S. detention may be receiving food, they are not getting "love and stimulation":
I have seen the angels,
 I heard their cry, and watched them die.
 I have seen the angels.
 Listless and lonely, dry staring eyes,
 I have seen the hungry angels:
 Born in jeopardy, reared in adversity,
 Matured in uncertainty.
 I have seen the hungry angels.

Children need food, love and stimulation;
 A life today, a part to play.
 Without these blessings, they will repeat
 The tragedy of unknowing society.

Help now your children, feed now your angels,
 Touch the little ones;
 Please, God, help the hungry angels.

O, God, who Thy tender mercy.
 Teach the family to animate the children;
 Show them ev'ry way
 To nourish the hungry angels.
In yesterday's blog post about London orphans, I quoted Blake's warning about turning "an angel from your door." O, God, teach us to nourish these hungry angels.
Related posts:
The Snow Queen and Child Snatching
Trump's Faustian Bargain: Stop Caring
Thomas Mann on Nationalists' Faustian Bargain
Adrienne Rich Keeps Immigrants Human
Trump, Clifton, and Immigrants as Animals
Immigrants Face a Sophie's Choice