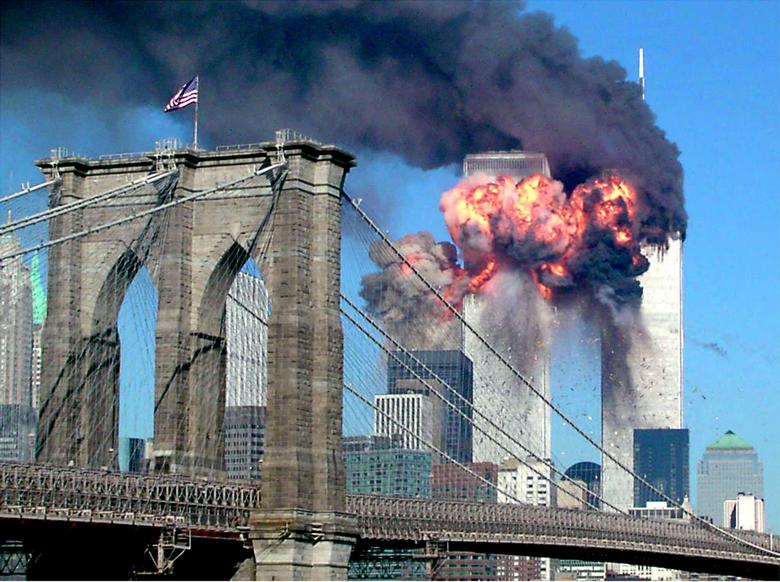 Friday
Reposted with modifications from September 10, 2016
On September 11, 2001 and for six days afterwards, Lucille Clifton wrote poems exploring the attack. In other words, for a week she used poetry as a daily meditation to process what had happened.
At the time, Lucille was a colleague of mine at St. Mary's College of Maryland, and we have posted all of them on plaques around St. John's Pond, which sits in the middle of our campus. As one walks around the pond, one can read the sequence in its entirety.
The first poem turns on its head what it means to believe that God has blessed America. Often Americans assert that we are blessed because, as a wealthy and safe country, we are "exempt" from the suffering experienced "in otherwheres/israel ireland palestine." Clifton notes that, with the attacks, we received a different kind of blessing, one that is in line with Jesus reaching out to the wretched of the earth: God has blessed us with the knowledge of what these "otherwheres" regularly experience:
1 Tuesday 9/11/01

thunder and lightning and our world
is another place no day
will ever be the same no blood
untouched

they know this storm in otherwheres
israel ireland palestine
but God has blessed America
we sing

and God has blessed America
to learn that no one is exempt
the world is one all fear
is one all life all death
all one
In Wednesday's poem, Clifton reminds us that Muslims no less than Christians are God's children. God has multiple names and many tongues. This is not the time to focus on divisiveness, she says, either anger against Muslims or anger against those targeting Muslims. This is a time to pray together under one flag, "warmed by the single love/ of the many tongued God."
2 Wednesday 9/12/01

this is not the time
i think
to note the terrorist
inside
who threw the brick
into the mosque
this is not the time
to note
the ones who cursed
Gods other name
the ones who threatened
they would fill the streets
with arab children's blood
and this is not the time
i think
to ask who is allowed to be
american America
all of us gathered under one flag
praying together safely
warmed by the single love
of the many tongued God
Thursday's poem uses a passage from Genesis (28:12) to honor the firemen who gave their lives. There we read that, while dreaming, Jacob "saw a stairway resting on the earth, with its top reaching to heaven, and the angels of God were ascending and descending on it."
3 Thursday 9/13/01

the firemen
ascend
like jacob's ladder
into the mouth of
history
Friday's poem refers to the historical suffering of oppressed groups and passes along to all Americans an insight Clifton has struggled to learn as an African American woman: victims are not to blame for their suffering. While various rightwing preachers like Jerry Falwell said that the 9/11 attacks were in retribution for America's toleration of homosexuality, Clifton reassures Americans that we have done nothing "to deserve such villainy."
4 Friday 9/14/01

some of us know
we have never felt safe

all of us americans
weeping

as some of us have wept
before

is it treason to remember

what have we done
to deserve such villainy

nothing we reassure ourselves
nothing
Saturday's poem invokes Jesus and asks whether there is a higher purpose at work in our suffering. Lucille wonders whether there will be miracles of love in store for us, even as she acknowledges that the intention of "the gods" is difficult to understand:
5 Saturday 9/15/01

i know a man who perished for his faith.
others called him infidel, chased him down
and beat him like a dog. after he died
the world was filled with miracles.
people forgot he was a jew and loved him.
who can know what is intended? who can understand
the gods?
Sunday's poem is dedicated to Lucille's new granddaughter, born five days before the attacks. As she looks over the St. Mary's River that flows by our campus, Lucille is struck by the calm, which is in marked contrast with the attacks. While she is well aware of humanity's history of injustice and the many reasons to hate—she is "cursed with long memory"—she chooses to love instead.
Her granddaughter, she notes, is born innocent into a violent world. While Bailey will become aware of the bad, however, she will also become cognizant of the good. Buoyed by new life, Lucille talks about how she loves all of the world, despite "the hatred and fear and tragedy." Ultimately, love trumps all.
6 Sunday Morning 9/16/01
for bailey

the st. marys river flows
as if nothing has happened

i watch it with my coffee
afraid and sad as are we all

so many ones to hate and i
cursed with long memory

cursed with the desire to understand
have never been good at hating

now this new granddaughter
born into a violent world

as if nothing has happened

and i am consumed with love
for all of it

the everydayness of bravery
of hate of fear of tragedy

of death and birth and hope
true as this river

and especially with love
bailey fredrica clifton goin

for you
It so happened that Rosh Hashanah fell upon September 17 in 2001, prodding Lucille to find symbolic significance in the Jewish new year and the supposed anniversary of Adam and Eve. While human evil emerged from the Garden of Eden, so did human love. Lucille writes that "what is not lost" from that original connection with God "is paradise." In the sweet and delicious image of "apples and honey," we see that Lucille believes that not all has been lost:
7 Monday Sundown 9/17/01

Rosh Hashanah

i bear witness to no thing
more human than hate

i bear witness to no thing
more human than love

apples and honey
apples and honey

what is not lost
is paradise
And so we continue on, finding something to salvage in even the grimmest of times.