Film Friday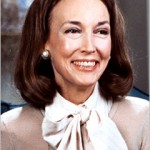 When Helen Gurley Brown, author of Sex and the Single Girl and prime architect of Cosmopolitan, died Monday at 90, I thought of a famous actress and a popular film. The actress was Mae West, who Brown loved to quote. The film was Pretty Woman.
Brown apparently had West's quotation "Good girls go to heaven, bad girls go everywhere," posted on the wall of her office. I imagine that Brown also liked the line that Kit, the friend of Vivian (Julia Roberts), says at one point in Pretty Woman, where both are prostitutes: "We say who, we say when, we say how much." Brown was very straightforward as she told women to use their sexuality as tools to gain money and security, and she had a rocky relationship with 1970s feminism as a result. She reminds me of the Wife of Bath in her refusal to be defensive.
I got the idea of applying Pretty Woman to Brown from an essay by film scholar Hillary Radner entitled "Pretty Is as Pretty Does: Free Enterprise and the Marriage Plot." Radner notes that, in Pretty Woman, the traditional marriage plot has changed in ways that Brown helped pioneer. No longer is a woman's virginity her most important asset in the marriage game. Now it is her sexuality. Cinderella has become, to once again quote Kit, "Cinder-fuckin'-rella." Brown freely used the term "working girl," with its double meaning, to make her point, and Vivian is definitely a working girl.
There are interesting parallels between the tactics used by Vivian and those used by corporate raider Edward Lewis (Richard Gere). Early in the film, he gives her a lesson in capitalism when he has her negotiate her fee (she settles for less than he would have paid). In the end, however, she uses her own leverage to have him increase his offer from mistress to wife. We are supposed to think that her refusal to settle for being his mistress comes out of the sincerity of her heart—that she's still somewhat of an innocent, a prostitute with a heart of gold—but if one judges by results, she has been an enterprising venture capitalist who took a daring risk that paid off. Whether deliberate or not, her innocence has worked as a shrewd tactic. I have no doubt that Brown would see it as deliberate.
I have very mixed feelings about Brown's vision. While I get a kick out of the sex in Cosmopolitan, I am repulsed by its crass consumer materialism. Ditto with the film: I enjoy Julia Roberts in her thigh high boots but am put off by the way the film wallows in expensive goods and experiences, which include clothes, jewelry, Lear jets, penthouse suites, and high class outings.
Helen Gurley Brown figured out a way to merge the delight with the money. There's a gift in the enjoyment she provided but, as a woman who seemed to place ultimate value in youth and wealth, her soul doesn't appear to have gone very deep.