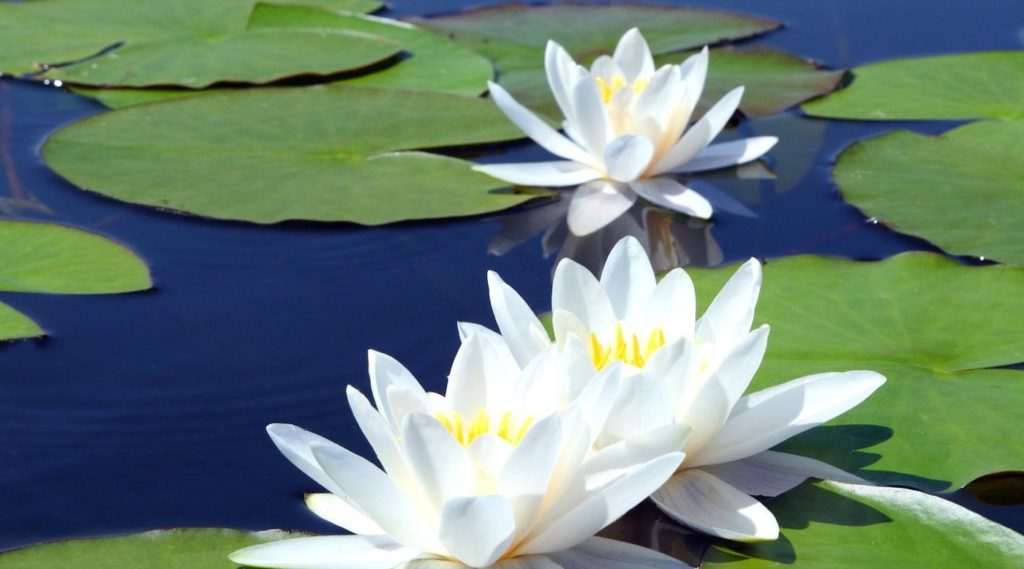 Tuesday
I write today about a personal problem. Our lake has been increasingly invaded by watershield and our neighborhood association isn't sure what to do about it. It took out our water intake system so that we had to switch over to city water, and it makes swimming and boating difficult. If left to its own devices, it will turn parts of our beautiful Lake Eva into a marsh.
We tried stocking the lake with sterile carp but saw little evidence that they found the stuff tasty. Now that we no longer get our drinking water from the lake, I suppose we can try something chemical, but that idea excites no one. To add insult to injury, watershield (see picture below) lacks the glamor of water lilies. Please send along suggestions.
In the meantime, here's a Helen Hunt Jackson poem from her Calendar of Sonnets that finds water lilies to be the one consolation for the killing heat of July (see picture above). All other plant life may wither in the heat, but "white lilies float and regally abide." Unharmed by the blistering sun, the water lily "lifts her queenly face and head;/ She drinks of living waters and keeps fair."
It sounds like a good guide for growing old.
Some flowers are withered and some joys have died; 
 The garden reeks with an East Indian scent 
 From beds where gillyflowers stand weak and spent; 
 The white heat pales the skies from side to side; 
 But in still lakes and rivers, cool, content, 
 Like starry blooms on a new firmament, 
 White lilies float and regally abide. 
 In vain the cruel skies their hot rays shed; 
 The lily does not feel their brazen glare. 
 In vain the pallid clouds refuse to share 
 Their dews, the lily feels no thirst, no dread. 
 Unharmed she lifts her queenly face and head; 
 She drinks of living waters and keeps fair.