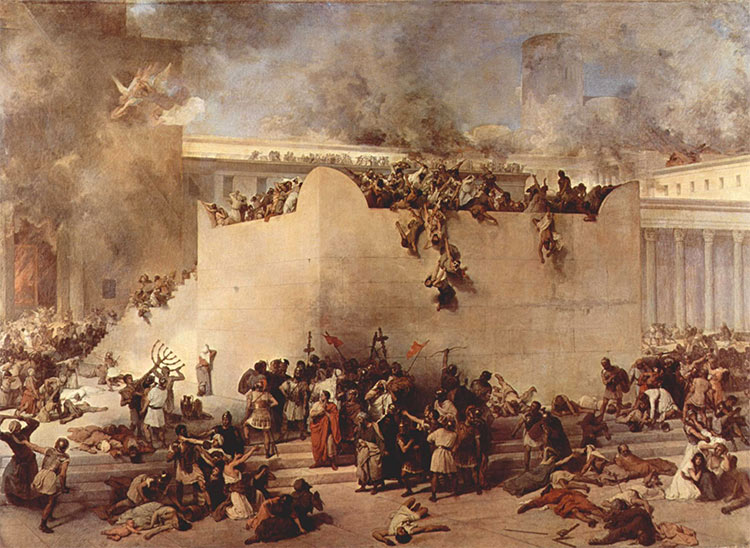 Spiritual Sunday
Today's Gospel reading about the temple's destruction brings to mind a number of George Herbert poems, including "Sion." For Herbert, as for Jesus, the stone and mortar temple gives way to a bodily one.
In Luke's account (Luke 21:5-6), Jesus warns his followers not to become too enamored with "beautiful stones":
When some were speaking about the temple, how it was adorned with beautiful stones and gifts dedicated to God, Jesus said, "As for these things that you see, the days will come when not one stone will be left upon another; all will be thrown down."
Similar comments are expanded upon and interpreted in John's account (2:19-21):
So the Jews said to him, "What sign do you show us for doing these things?" Jesus answered them, "Destroy this temple, and in three days I will raise it up." The Jews then said, "It has taken forty-six years to build this temple, and will you raise it up in three days?" But he was speaking about the temple of his body. When therefore he was raised from the dead, his disciples remembered that he had said this, and they believed the Scripture and the word that Jesus had spoken.
Herbert named his collection The Temple, and "Sion" makes clear that the real temple is the "peevish heart." Sometimes the heart crosses God and sometimes God crosses the heart. "The fight is hard on either part," Herbert tells us.
Above all else, however, God treasures "one good groan," which is good news for Herbert as he did plenty of agonized wrestling. Groans "are quick, and full of wings, and all their motions upward be," whereas "brass and stones are heavy things, tombs for the dead." In mounting, the groans sing like larks, which Herbert tells us is "music for a king."
The poem begins with heavy images but, by the end, is moving into realms of light. Depression gives way to joy, death to resurrection.
Lord, with what glory wast thou served of old,
 When Solomon's temple stood and flourished!
 Where most things were of purest gold;
 The wood was all embellished
 With flowers and carvings, mystical and rare:
 All showed the builder's, craved the seer's care.
 
 Yet all this glory, all this pomp and state
 Did not affect thee much, was not thy aim;
 Something there was, that sowed debate:
 Wherefore thou quitt'st thy ancient claim:
 And now thy Architecture meets with sin;
 For all thy frame and fabric is within.
 
 There thou art struggling with a peevish heart,
 Which sometimes crosseth thee, thou sometimes it:
 The fight is hard on either part.
 Great God doth fight, he doth submit.
 All Solomon's sea of brass and world of stone
 Is not so dear to thee as one good groan.
 
 And truly brass and stones are heavy things,
 Tombs for the dead, not temples fit for thee:
 But groans are quick, and full of wings,
 And all their motions upward be;
 And ever as they mount, like larks they sing;
 The note is sad, yet music for a king.
Herbert arrives at grace only after genuine soul-searching. There's nothing facile about his faith.