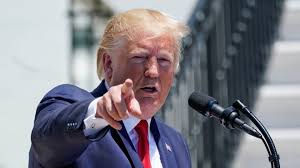 Monday
White terrorist incidents are like extreme weather events: although one can't attribute any particular incident to climate change, one can identify patterns. Since Donald Trump's election, there has been a spike in hate groups, in hate crimes, and in people upbraiding strangers who don't look or sound like them. It was only a matter of time before killers parroting the president would unload upon a Jewish community center in Pittsburgh or a diverse shopping mall in El Paso.
I wrote last week about Trump's use of the word "infestation," designed to dehumanize his targets. When it was directed last week against Rep. Elijah Cummings's Baltimore constituency, I thought instantly of Countee Cullen's famous poem about the city.
I have some knowledge of Baltimore. Former student William Boyd, who lived with us during his college years and helped raise our kids, how runs New Elizabeth Baptist Church in inner city Baltimore. My family has stayed multiple times at the Boyd family home. It was not "rodent infested" and, contrary to Trump's assertion that "no human being would want to live" there, the Boyds were very happy with it.
I remember William taking a "Minorities" sociology class at St. Mary's College of Maryland and reacting adversely when the professor showed pictures of a "slum." "That's not a slum," William thought. "That's home."
It's true that New Elizabeth is not as neatly manicured as the upscale Jewish neighborhood only two blocks away. (Both are located on Park Heights Avenue, as is Pimlico Racetrack.) Moving from one to the other is like flipping a switch, like going from Kansas to Oz. Although located in a blue state, Baltimore has a long history of segregationist redlining. But while urban poverty and urban crime have an impact, Baltimore features vibrant communities, bolstered by churches like New Elizabeth.
If you're white, however, you may see only what you want to see. Such occurs in Cullen's "Incident," which is particularly powerful because it feels like a Mother Goose rhyme before it turns dark. Childhood innocence encounters racism and never forgets it:
Once riding in old Baltimore,

    Heart-filled, head-filled with glee,

I saw a Baltimorean

    Keep looking straight at me.



Now I was eight and very small,

    And he was no whit bigger,

And so I smiled, but he poked out

    His tongue, and called me,
"Nigger."



I saw the whole of Baltimore

    From May until December;

Of all the things that happened there

    That's all that I remember.
Integrationists dreamed that race intermingling would end such stereotyping, Busing, broached by Kamala Harris in the first Democratic debate, was designed to break down barriers. Donald Trump is doing everything he can to restore them, as are the various white terrorists wielding deadly weapons.