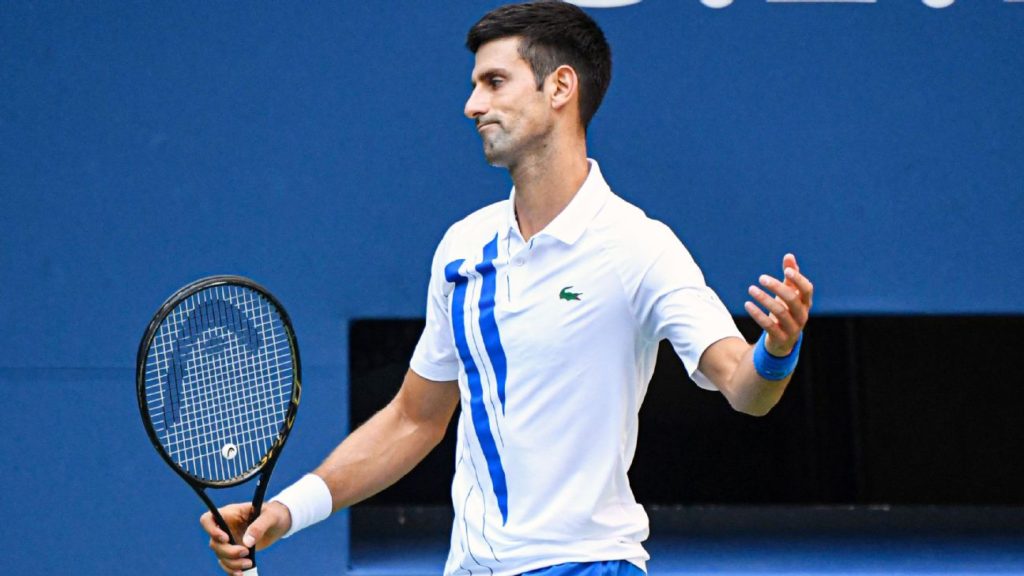 Thursday
Tennis fans everywhere felt the shock of Novak Djokovic's ejection from the U.S. Open after inadvertently hitting a lineswoman. Although the mishap was inadvertent, the slapped ball was hit in anger. Professional tennis player Andrea Petkovic uses an episode from a Philip Roth novella to show how such moments can be used to assess character.
Writing for Racquet Magazine, Petkovic focuses on a class drama in which lower middle-class Neil Klugman waits for upper-class Brenda Patimkin to complete her tennis match before their date. How much can you read into Brenda's character from the following scene, as recounted by Neil?
 I parked the car under the black-green canopy of three oaks, and walked towards the sound of the tennis balls. I heard an exasperated voice say, "Deuce again." It was Brenda and she sounded as though she was sweating considerably. I crackled slowly up the gravel and heard Brenda once more. "My ad," and then just as I rounded the path, catching a cuff full of burrs, I heard, "Game!" Her racket went spinning up in the air and she caught it neatly as I came into sight.
Brenda has just broken for a 5-4 lead and she calls out, "One more game, Neil."
Petkovic observes,
We all know those people who loudly announce the score as long as it is in their favor, and we all know what that tells us about them. Brenda is that kind of a person. She calls out the score loudly and clearly because she is winning, behavior that could tip you over into the abyss of insanity that you have been balancing on so bravely for the past hour or so….

Roth presents Brenda's behavior as cocksureness, but to me it reads as bourgeois privilege.
Given Roth's exploration of class distinctions within the Jewish community, bourgeois privilege is a good interpretation.
Neil himself interprets Brenda's chip and charge strategy:
Her passion for winning a point seemed outmatched by an even stronger passion for maintaining her beauty as it was. I suspected that the red print of a tennis ball on her cheek would pain her more than losing all the points in the world.
Petkovic elaborates:
Brenda Patimkin's biggest fear is about her nose, which she had some work done on. She avoids the net and only rushes it when night begins to fall and she assumes she cannot be seen and hit in the face as easily. It is a simple fear, but it tells us that Brenda's angst may be related to potential cracks in the facade she presents to the world, which is a herald of things to come in their love affair.
Petkovic gives literature and film credit for her key insight:
All the romantic moves in my playbook I have acquired from the books I have read and the movies I have seen. It is no surprise, then, that I've taken a page from Brenda's book in my own life, too. Whenever I want to really get to know someone, I get them out on a tennis court.
She then elaborates while looking into the reasons why:
Tennis is a very difficult sport that is rarely ever picked up easily by anyone, even genuinely athletic people. It is a sport that is technically and mentally challenging and tends to bring out the true colors of anyone who attempts it. It can tell you a lot about a person's persistence and determination and how willing they are to accept failures and mistakes in order to move forward.

It also boils down to an individual's general state of competitiveness and which states of mind he or she prefers to be in. Is it something more peaceful and comforting, or is it the friction and tension that bring out the best in somebody? It is non-negotiable what a person feels is better for them; different stimuli are required for different types of people. It really does throw us back into a weird kind of childlike state of mind in which we are in some way closer to our true essence than after years of living under society's influence.

Being on a tennis court and playing a match is mentally and emotionally challenging, no matter how accomplished a player you are. At one point in a relatively even match you will always have to face some personal angst that may present itself in the form of simple fears that can have nothing to do with tennis.
So what can we learn about Djokovic from his episode? My view of Serbians is somewhat biased as I see them from a Slovenian perspective (where I spend two years on Fulbrights). Because Serbs felt underappreciated when they were part of Yugoslavia (equal with five other republics and two autonomous provinces), they went about asserting their dominance over the others, which finally led to the break-up of the country. Once can see Serbian resentment underneath Djokovic's genial exterior.
But setting national characteristics aside, Djokovic also is bothered at not receiving the love of Federer and Nadal garner, even though he has been better than both of them in recent years. Whenever he has faced either one in a match, he invariably sees the crowd pulling heavily against him. To his credit, he has found a way of using this to his advantage, playing with a chip on his shoulder. Still, it gets to him.
In this year's U.S. Open, both Federer and Nadal are missing, perhaps letting Djokovic feel that it was finally his turn in the sun. In his match where he lost his temper, however, Spanish player Carreno Busta was refusing to roll over, once coming back from an 0-40 deficit to avoid a break (at which point Djokovic violently slammed the ball into the side barrier), and then breaking Djokovic's own serve (at which point Djokovic hit the lineswoman). It's as though Djokovic momentarily saw himself entitled to a set he had just lost.
In fact, he has been lucky in the past that his thrown racquets and swatted balls haven't hit anyone. He has even derided reporters who pointed out he was playing with fire.
So returning to Petkovic's point,
If you ever are unsure about a person, drag them to the tennis court of their choice and in a matter of minutes everything will be laid out in crisp clearness before you.