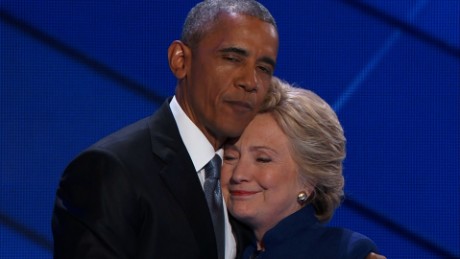 Friday
 So it will be Hillary vs. the Donald battling it out in "the arena" (to quote the president quoting Teddy Roosevelt). As much as I, a dyed-in-the-wood Democrat, loved the various speeches from the former presidents and the vice-president, part of me couldn't help feeling that we were watching a father—or a series of fathers—giving the bride away. Maybe the image came to mind because I've been reading Thomas Hardy's Jude the Obscure and was struck by Sue Bridehead's objection to such a patriarchal practice:
I have been looking at the marriage service in the prayer-book, and it seems to me very humiliating that a giver-away should be required at all. According to the ceremony as there printed, my bridegroom chooses me of his own will and pleasure; but I don't choose him. Somebody gives me to him, like a she-ass or she-goat, or any other domestic animal.
Then again, it's not just any men giving Hillary their blessing but men who have been running the most powerful country on earth. They know up close what she will be facing. It's as though she's the rookie in the room—okay, a highly qualified rookie—and the veterans are giving her their blessing.
So the other passage that comes to mind is the conclusion of James Baldwin's short story "Sunny's Blues." Sunny's band knows how frightening it is for Sunny to return to music after being jailed for heroin possession, and they gathering around him to support him. They at first play music that allows him to rediscover the piano and then gently push him into the deep water of the blues. As the narrator puts it,
Creole wasn't trying any longer to get Sonny in the water. He was wishing him Godspeed.
So that's a better way to see Wednesday night: people who had faced the awesome responsibility of serving as president of the United States wishing the most recent applicant Godspeed.
Previous posts on Hillary Clinton
Hillary Clinton as Emma Woodhouse
Was T. S. Eliot a Key to Hillary's Success
Hillary and the Pressure To Be a Cool Girl
Limbaugh's Hillary-Ratched Comparison
Trump's Game of Thrones Invasion 
Bernie is Peter Pan, Hillary Is Wendy
The "V" Word: Casting Hillary as Duessa
Hillary Before the Judges Is Like Tolstoy's Pierre 
Lucille Clifton, Ralph Ellison Help Explain Whitesplaining
Prospero and the Presidential Primaries 
Hillary Will Be Cast as a Witch