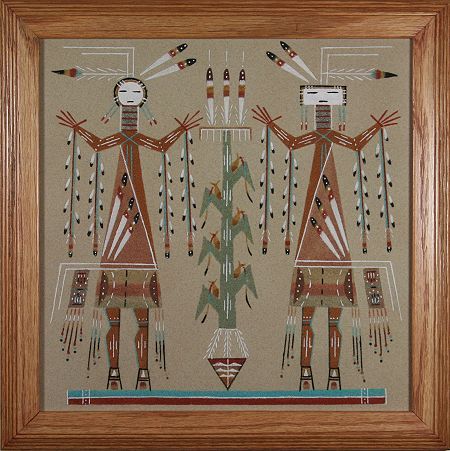 Spiritual Sunday
I recently taught Leslie Marmon Silko's Ceremony and, as always happens with that remarkable novel, discovered new things. Since we are entering the Advent season and I've just written a post about the dangers of a soulless materialism, I focus today on that issue from a Laguna Pueblo perspective. In Silko's novel, a drama involving a villainous Ck'o'yo' magician serves to capture how white technology is destroying sacred Indian ceremonies and, with them, the world.
Some explanation is needed. On one level, Silko's novel is about an Indian war veteran who must go on a quest to find healing, not only for himself but also for his people and for people everywhere. Interspersed through the novel, however, is a narrative poem about undoing the damage inflicted by an evil medicine man.
The story may well go back centuries, perhaps even predating the whites. By using it, Silko shows how the old stories, even while they may seem dated, nevertheless have a wisdom that applies to the changing times, including the incursion of white culture.
The medicine man who shows up promises marvelous things:
He asked the people

"You people want to learn some magic?"

and the people said

"Yes, we can always use some."



Ma'see'wi and Ou'yu'ye'wi

the twin brothers

were caring for the 

mother corn altar,

but they got interested

in this magic too.
The medicine man lives up to their expectations. At one point he causes water to pour out of a wall (it sounds like indoor plumbing), at another for a bear to appear. The people are impressed:
From that time on
 they were
 so busy
 playing around with that Ck'o'yo' magic
 they neglected the mother corn altar.
 
 They thought they didn't have to worry
 about anything
 They thought this magic
 could give life to plants
 and animals.
 They didn't know it was all just a trick
The mother goddess become so disgusted with how her people have abandoned her that she deprives them of what is really important:
"I've had enough of that,"

she said,

If they like that magic so much

let them live off it."



So she took

the plants and grass from them.

No baby animals were born.

She took the rainclouds with her 
As the novel opens, the area is undergoing a severe six-year drought, leading the Laguna to recall the old stories. But the story also works as a powerful parable for the numerous ways that modern technology is depleting the earth. In another story, we see such depredations tied more explicitly to the whites:
They will carry objects

which can shoot death

faster than the eye can see.



They will kill the things they fear

all the animals

the people will starve.



They will poison the water

they will spin the water away

and there will be drought

the people will starve
In the story about the Ck'o'yo' magician, the people need animal intermediaries to make things right with Mother Earth. After performing a complicated set of tasks that culminate in a purification ritual (you can read about it here), the mother goddess agrees to return:
Everything was set straight again
 after all that ck'o'yo' magic.
 
 The storm clouds returned
 the grass and plants started growing again.
 There was food
 and the people were happy again.
 
 So she told them
 "Stay out of trouble
 from now on.
 
 It isn't very easy
 to fix up things again.
 Remember that
 next time
 some ck'o'yo' magician
 comes to town."
There are a number of passages where we see the protagonist reconnecting with the earth. One of my favorites occurs after Tayo has been captured by whites guarding the cattle that have been stolen from his family. Although all hope seems lost, Tayo's communion with nature appears to lead to a miraculous release. In the scene he is lying on the ground with his hands tied behind him:
He was aware of the center beneath him; it soaked into his body from the ground through the torn skin on his hands, covered with powdery black dirt. The magnetism of the center spread over him smoothly like rainwater down his neck and shoulders; the vacant cool sensation glided over the pain like feather-down wings. It was pulling him back, close to the earth, where the core was cool and silent as mountain stone, and even with the noise and pain in his head he knew how it would be: a returning rather than a separation. He was relieved because he feared leaving people he loved. But lying above the center that pulled him down closer felt more familiar to him than any embrace he could remember; and he was sinking into the elemental arms of mountain silence.
If the earth provides one spiritual connection, the heavens provide another. Following the successful completion of his final trial, Tayo looks up at the stars and is reassured:
He had arrived at a convergence of patterns; he could see them clearly now. The stars had always been with them, existing beyond memory, and they were all held together there. Under these same stars the people had come down from White House in the north. They had seen mountains shift and rivers change course and even disappear back into the earth; but always there were these stars. Accordingly, the story goes on with these stars of the old war shield; they go on, lasting until the fifth world ends, then maybe beyond. The only thing is: it has never been easy.
Advent is a time when we are confronted by darkness, which tests our faith. Christians have their own version of a fertility story, a momentous birth under trying circumstances, and many turn to evergreens and mistletoe as a reminder than new life will return. In Silko's healing story, we learn how both Indian and white culture have lost their spiritual center and what we must do to reconnect.