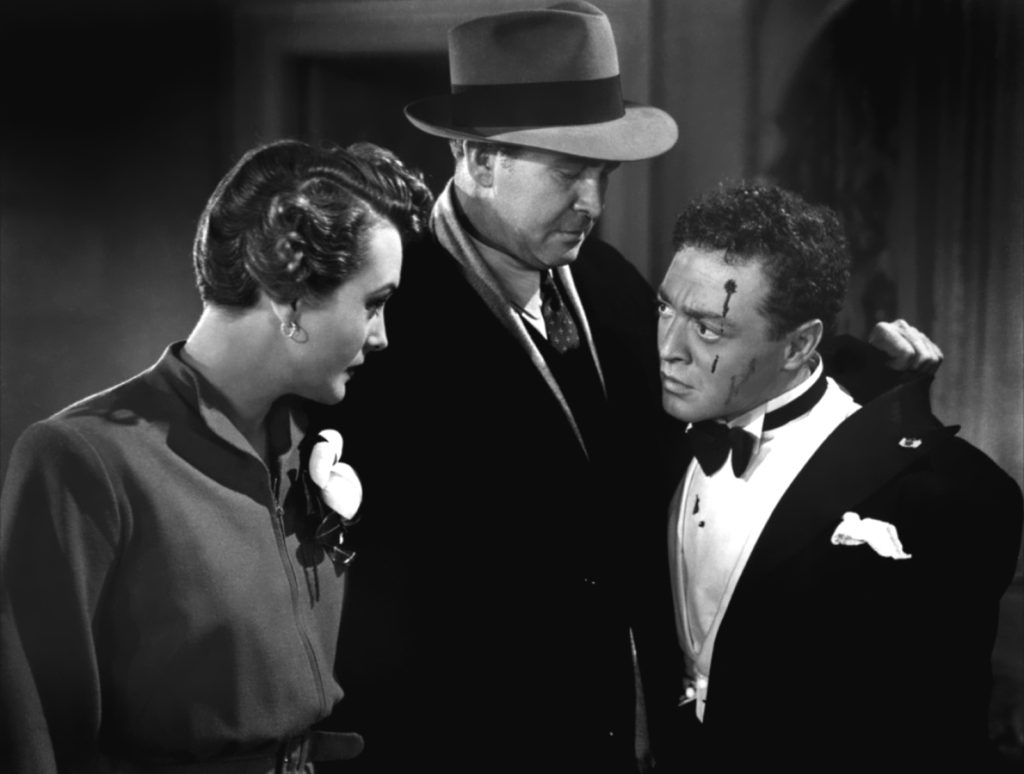 Monday
It's never been easy for the GOP to defend Donald Trump. Every time they think of some way to rationalize his actions, he himself undercuts the defense with an interview or tweet. It's been particularly difficult to justify Trump's attempts to bribe/extort the Ukrainian president.
In their defense of Trump, Republicans have moved from "no quid pro quo" to "rogue actors, not the president, asking for favors" to "okay, quid pro quo but, while bad, it's not impeachable" to "of course the president had to pressure Ukraine because it supported Hillary and funded Biden corruption." This last charge is Vladimir Putin's disinformation, but Trump has gotten senators like Lindsey Graham, Ron Johnson, and John Neely Kennedy to go along with it.
It all reminds me of a scene in the Maltese Falcon where Sam Spade gives the police a ridiculous explanation to get out of a jam, putting Joel Cairo in the unenviable position of having to vouch for it.
The police come to Spade's door when he is dealing with two of the parties chasing after the falcon. Not having a warrant, the police are about to leave when they hear Bridgit O'Shaughnessy attacking Cairo. This gives them the excuse they need to enter, and they are prepared to arrest everyone when Spade comes up with his explanation:
"I dare you to take us in, Dundy," he said. "We'll laugh at you in every newspaper in San Francisco. You don't think any of us is going to swear to any complaints against the others, do you? Wake up. You've been kidded. When the bell rang I said to Miss O'Shaughnessy and Cairo: 'It's those damned bulls again. They're getting to be nuisances. Let's play a joke on them. When you hear them going one of you scream, and then we'll see how far we can string them along before they tumble.' And–"
The ploy works except for everyone except Cairo, who is arrested for his handgun. He is then grilled on what really happened, just as Trump-supporting senators are being grilled by the media. Later he tells Spade how it went:
"What did you let the police shake out of you?"

There was prim satisfaction in Cairo's smile. "Not a single thing. I adhered to the course you indicated earlier in your rooms." His smile went away. "Though I certainly wished you had devised a more reasonable story. I felt decidedly ridiculous repeating it."

Spade grinned mockingly. "Sure," he said, "but its goofiness is what makes it good. You sure you didn't give them anything?"

"You may rely upon it, Mr. Spade, I did not."

Spade drummed with his fingers on the leather seat between them. "You'll be hearing from Dundy again. Stay dummied-up on him and you'll be all right. Don't worry about the story's goofiness. A sensible one would've had us all in the cooler."
Trump's Ukraine story is so goofy—especially the part about Ukraine having Hillary Clinton's server–that it's doubtful that any senator really believes it. Like Cairo, however, it's the story they're stuck with.
That's because no sensible explanation short of the truth is possible. And the truth still has a chance of taking Trump down.
Further thought: Perhaps I need to amend that last statement since we are increasingly living in a world where Republicans are making up their own facts. I think of another change between the detective and Dundy:
Cairo had nothing to say for nearly a minute while he stared at the Lieutenant's chest. When he lifted his eyes they were shy and wary. "I don't know what I should say," he murmured. His embarrassment seemed genuine.

"Try telling the facts," Dundy suggested.

"The facts?" Cairo's eyes fidgeted, though their gaze did not actually leave the Lieutenant's. "What assurance have I that the facts will be believed?"