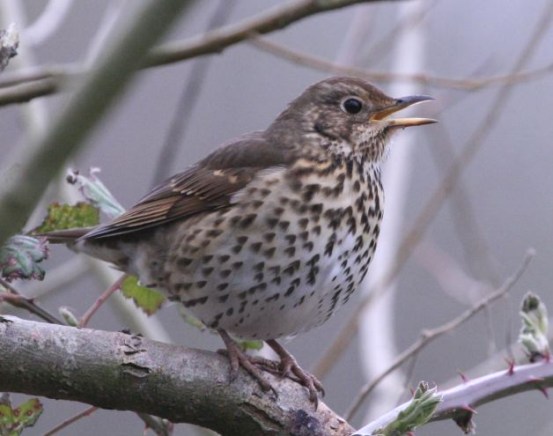 Spiritual Sunday
 One of the most powerful Advent poems I know was written by an agnostic. Thomas Hardy's "Darkling Thrush" isn't explicitly religious because the writer had abandoned the faith of his childhood. Nevertheless, it very much captures a longing for spiritual light in a world where, to quote Matthew Arnold's "Dover Beach," the sea of faith has retreated and there is "neither joy, nor love, nor light, /Nor certitude, nor peace, nor help for pain."
I quote Arnold because Hardy's title probably alludes to the poet's "we are here as on a darkling plain," "darkling" being a seldom used word meaning taking place in the dark. In addition to Arnold, the poet's struggles can be compared to those of Aadam Aziz in Salman Rushdie's Midnight's Children. Returning to Kashmir after receiving a European education, Aziz finds himself "knocked forever into that middle place, unable to worship a God in whose existence he could not wholly disbelieve."
"Darkling Thrust" opens with images of desolation ("spectre-gray" frost, "Winter's dregs," brambles like "strings of broken lyres"). Published on the eve of the new century (in December 1900), the poem looks back at the past century and sees a corpse in a crypt. Faith appears to be dead:
I leant upon a coppice gate,
When Frost was spectre-gray,
And Winter's dregs made desolate
The weakening eye of day.
The tangled bine-stems scored the sky
Like strings of broken lyres,
And all mankind that haunted nigh
Had sought their household fires.
The land's sharp features seemed to me
The Century's corpse outleant,
Its crypt the cloudy canopy,
The wind its death-lament.
The ancient pulse of germ and birth
Was shrunken hard and dry,
And every spirit upon earth
Seemed fervourless as I.
In this winter landscape, however, "a voice arose." Though it seems to make little sense, an aged thrush that has seen much hardship chooses to "fling his soul/Upon the growing gloom":
At once a voice arose among
The bleak twigs overhead,
In a full-hearted evensong
Of joy illimited.
An aged thrush, frail, gaunt and small,
With blast-beruffled plume,
Had chosen thus to fling his soul
Upon the growing gloom.
Hardy's use of the words "carolings" and "blessed Hope" point to religious possibility, even though the poet himself is in doubt. Could this bird know things he doesn't?
So little cause for carolings
Of such ecstatic sound
Was written on terrestrial things
Afar or nigh around,
That I could think there trembled through
His happy good-night air
Some blessed Hope, whereof he knew,
And I was unaware.
"Darkling Thrush" does far more me than confident assertions of faith. It captures my own struggling but leaves open the possibility of miraculous new life.