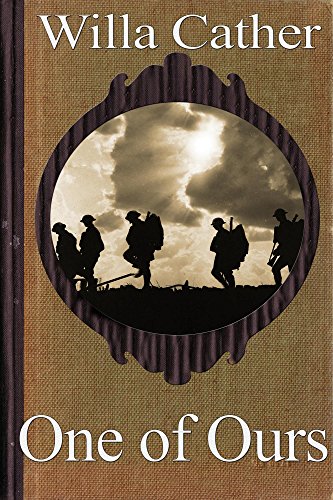 Friday
In my growing list of literary works that grapple with killer epidemics, I can now add Willa Cather's One of Ours (1923) after reading New Yorker's Alex Ross's review of this forgotten masterpiece. If we overlook it, Ross says, it's because its "keen-eyed, skeptical exploration of American masculinity…went over the heads of the male-dominated literary community of her time."
Midway through the novel, the 1918 Spanish flu breaks out amongst new American recruits being transported to the battlefield in the ship Anchises:
The section devoted to the Anchises's voyage is a strange, hallucinatory, altogether remarkable piece of writing, and it is closely based on the diary of a doctor who made such a voyage himself. In 1919, that doctor treated Cather for the flu, and she persuaded him to let her use his diary. At the beginning, the neophyte soldiers are in boisterous high spirits, singing, cavorting, boasting. Then they begin to fall sick and die, their minds assaulted by delirious episodes that seem all too familiar in the covid-19 era. Cather shows how the ship's close quarters make it a perfect breeding ground for contagion. "The boys lay in heaps on the deck," she writes, "trying to keep warm by hugging each other close."

To the spectacle of misery Cather adds a fine layer of irony. One of the soldiers is a big German-American named Fritz Tannhauser, who, when fever takes over, starts babbling in his native language. "His congested eyeballs were rolled back in his head and only the yellowish whites were visible. His mouth was open and his tongue hung out the side." Another soldier, known mainly as the Virginian, experiences a violent nosebleed and is dead not long after. The names are chosen carefully. Tannhäuser is the hero of a Wagner opera that experienced mass popularity in America before the First World War. The Virginian was Owen Wister's best-selling Western novel, from 1902—a founding text of cowboy iconography, and the work of an outspoken racist. Cather casts her subsidiary characters in the mold of heroes, but the flu lays waste to their bodies before they even catch sight of the battlefield
Cather's soldiers, Ross notes, aren't even allowed the "tough skinned bravado" that one finds in, say, Ernest Hemmingway's Farewell to Arms. Instead of the existentialist machismo of the disillusioned Frederic Henry, Cather depicts her protagonist as a naïve or holy fool who (in her words) "died believing his country better than it is." The book was therefore mocked by Hemingway, Edmund Wilson, and others, but it sounds as though Cather anticipates the kind of soldiers that one finds in, say, Tim O'Brien's Things Fall Apart.
If the sensitive protagonist hadn't died on the battlefield, his mother later realizes, he may well have killed himself when confronted with the gap between his ideals and reality:
A year or two after the end of the war, Claude's mother thinks of how some homecoming soldiers are unable to reënter reality, and die by their own hand. "Some do it in obscure lodging houses, some in their office, where they seemed to be carrying on their business like other men. Some slip over a vessel's side and disappear into the sea." Mrs. Wheeler takes a thin comfort in the sense that Claude might have suffered the same fate: "One she knew, who could ill bear disillusion . . . safe, safe."
In reading Ross's review, I'm reminded on one explanation for why the Spanish flu disappeared from historical consciousness despite having killed 50 million people worldwide (675,00 in the United States). Dying of the flu, when compared with dying on the battlefield, seemed effeminate and almost shameful. We're seeing comparable sentiments towards sickness today from certain authoritarian strong men, such as Trump and Brazil's Bolsonaro. Wearing masks is for sissies.
In Pale Horse, Pale Rider, Katherine Porter Mansfield also has a soldier die before being shipped to the front. Fighting an illness can indeed be like fighting a war, and at one point Trump talked about becoming a wartime president in the battle against Covid. He even discussed invoking the War Powers Act, presumably with an eye toward producing personal protective equipment, tests, and testing centers.
Since then, however, he has waved the white flag of surrender, preferring to think the illness will go away if we just ignore it. He doesn't even bother to thank frontline workers anymore. Willa Cather is never been one to indulge such men. If you want to see real heroism, check out her strong female protagonists in Song of the Lark, O Pioneers!, and My Antonia. They don't talk big but their staying power and their toughness show us what it really takes to surmount adversity.