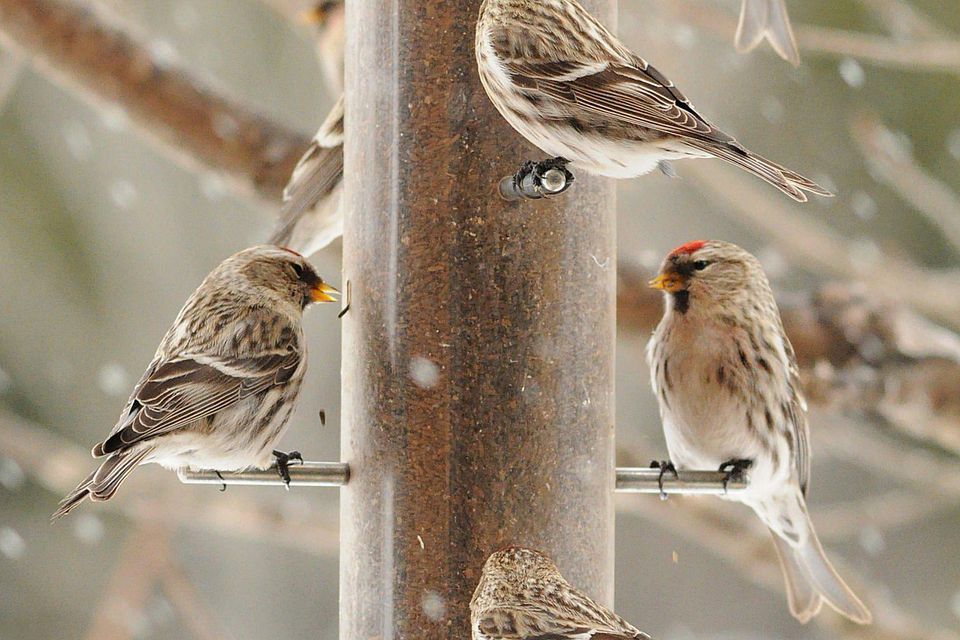 Tuesday – Christmas Eve
Over the past few cold and rainy days, chickadees, goldfinches, titmice, and nuthatches have been swarming out feeders, bringing to mind one of my father's Christmas poems. I first posted it nine years ago.
I excerpt a portion of previous post, only adding that (this in response to the allusion to Hermes Trismegistus) I considered the name Trismegistus for my youngest son. In doing so, I would have followed the example of Tristram Shandy's father in Lawrence Sterne's novel.
Believing that giving a child the right name assures his future, Shandy wants to name his son after the ancient philosopher whose hermetic writings contributed to alchemy, astrology and theosophy. Shandy regarded Hermes Trismegistus as "the greatest…of all earthly beings—he was the greatest king——the greatest law-giver——the greatest philosopher——and the greatest priest."
Thanks to a misunderstanding with the midwife, his son instead receives the name Shandy detests the most. Mercifully, paternal will was thwarted in my family as well, and Toby was named after another character in the novel, Tristram's kindly uncle.
I must admit that taking Walter Shandy as a model wouldn't have reflected well on me, given that Walter lives exclusively in his head. (He spends all of Tristram's childhood writing a child-raising book while altogether ignoring his son.) In any event, Trismegistus is connected with magical transformation, which is how his name gets used in our poem for the day.
Originally posted Dec. 16, 2010
My father has been writing Christmas poems annually for years. He sends them out in the family Christmas card and also publishes them in the Sewanee newspaper, which my mother founded and ran for years. In addition to being a fine poet of light verse, my father is an enthusiastic bird watcher, and the poem below combines his passions.
Seemingly straightforward, "The Bird Watcher's Christmas Dinner" is about mystical transformation. Multi-colored birds, drawn to a feeder, turn a cedar into a Christmas tree. Partaking of a feast that appears miraculously, the birds themselves become a feast for the soul.
The transformation occurs "trysmegistically," Hermes Trismegistus being an ancient philosopher associated with the Greek messenger of the gods. Hermes moved between heaven and earth, opening up concourse between the mystical and the mundane. The poem describes the birds as angels, and one thinks of the Edmund Sears carol about Christmas angels "bending near the earth to touch their harps of gold." Here we see them "feasting and flying and doing a show/For watchers on the earth below."
We watchers, struggling through cold, dark days, live in hope that the world will be mystically transformed. "Peace on the earth, good will to men" (and women): that is what midwinter rituals like Christmas are all about.
The Bird Watcher's Christmas Dinner

By Scott Bates

You can't exactly call it greed
 When birds at feeders feed and feed
 On endless quantities of seed;

It's sleeping in the cold all night
 And doing prodigies of flight
 That gives a bird an appetite.

They wait their turns with impatience
 Perched on the cedar by the fence
 Like so many Christmas ornaments,

Cardinal, goldfinch and chickadee,
 Turning it, trismegistically,
 Into an ancient Christmas tree

With angels hurrying to and fro
 Feasting and flying and doing a show
For watchers on the earth below.