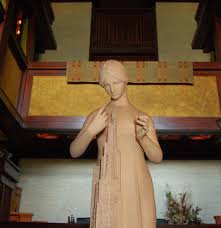 Monday
On the way back from a family function in Iowa, Julia, my mother and I stopped off in Springfield, Il. Yesterday we visited the spectacular house that Frank Lloyd Wright built for Dana Thomas in 1902-04. Upon entering the structure, we were greeted by a statue bearing the label of a Tennyson poem.
Looking at "Flower in a Crannied Wall" from the vantage point of an architect gave me a new perspective on the lyric. I've always focused on the flower but now Wright has me thinking about the wall. Here's the poem:
Flower in the crannied wall,

I pluck you out of the crannies,

I hold you here, root and all, in my hand,

Little flower—but if I could understand

What you are, root and all, and all in all,

I should know what God and man is.
There's an implied dialogue here between science and religion, with the poet playing momentary botanist but implying that fully understanding God and man requires far more than science. From Wright's point of view, however, the real drama lies within the intersection between human-built wall and nature-created flower.
In his own architecture, there is a constant play between technology and nature. Fallingwater is the most famous example but there are plenty of instances in the Dana Thomas house, including the use of wood, natural stone, plants, and various decorative nature motifs (especially of butterflies and prairies grasses, which can be found in the iron work in the windows and in the lampshades).The tension appears as well in the reception hall's Moon Children Fountain, designed by Richard Bock and Marion Mahony, where nymphs pour water from a rounded pot into a stylized basin.
 Thus the importance of the statue that presides over the entrance. The woman represents Nature but she is adding a cube to an architectural column. To those who enter, she signals that nature and architecture have a symbiotic relationship. Although visitors can't initially see it, Tennyson's poem is inscribed on her back.
In one way, the statue seems a refutation of the poem. Nature isn't plucked from the wall but works together with it. But even if Tennyson isn't as pro-wall as Wright, he nevertheless sees the tension between the two as vital. After all, he doesn't pluck the flower from a field in order to meditate upon it. For him, the flower grows in spite of the wall, as if resisting human efforts to dominate it. The flower escapes human understanding just as it escapes human technology, reminding us that we will never entirely know what God and man is.
Wright makes a similar point. If architecture is to grow, it must collaborate with nature, not seek to contain it. That helps explain why we feel so alive when we visit one of Wright's structures.