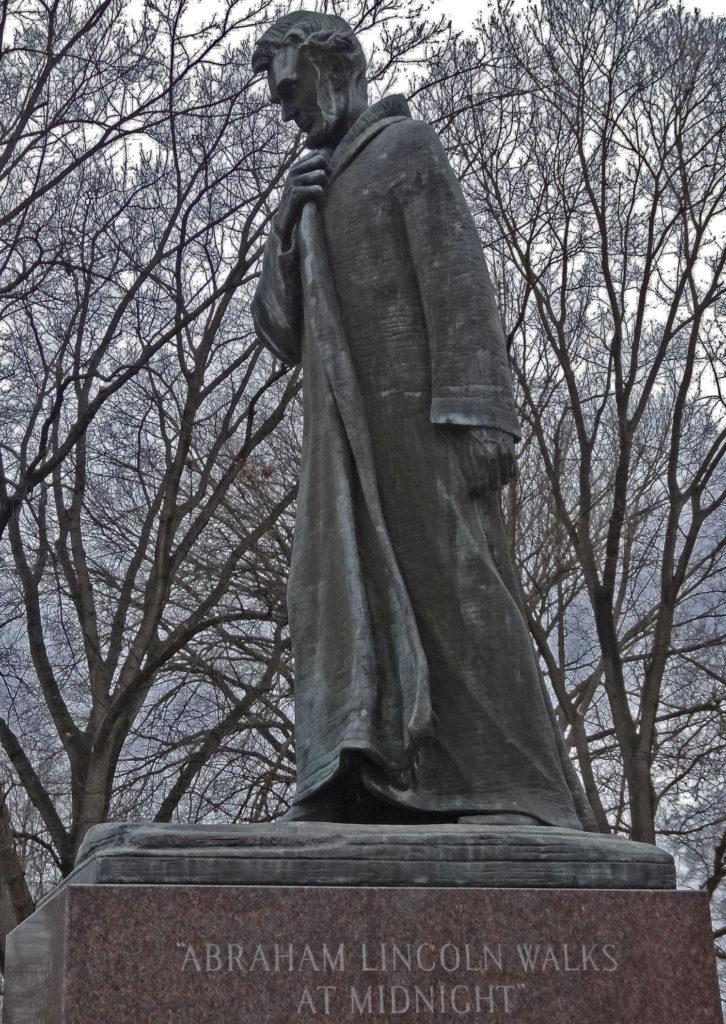 Tuesday
I walked away from Springfield's Abraham Lincoln Museum yesterday thoroughly depressed and had to spend some time figuring out why. I think it's because, while Lincoln ultimately prevailed in an impossible situation, I don't see any Lincolns today. Our current polarization, while not as severe as in slave times, often appears beyond the help of either great leaders or our Constitution.
Vachel Lindsay felt the same during the first year of World War I, which is why he wrote a poem longing for Lincoln. How must he have felt in subsequent years when absolute carnage was released upon the world?
We too appear beyond the help of politics as the onrushing forces of climate destruction, gun violence, and authoritarianism threaten to engulf us all. Once again we may be find ourselves dreaming of that "bronze, lank man," that was "master of us all."
But perhaps our response to Lindsay's poem should be a firm resolve to rise to our challenges. Perhaps we are haunted by Lincoln because he knows America has within it the potential to step into a new "spirit dawn" and he won't allow either himself or us to rest in peace until we have made that happen.
It's truly remarkable how Lincoln was able to keep the faith in the face of secession, unceasing attacks, war reversals, and family problems. Instead of being depressed, then, I should hold him before me whenever I start surrendering to my doubts. That's being haunted in a good way.
Abraham Lincoln Walks at Midnight 
(In Springfield, Illinois)

It is portentous, and a thing of state
 That here at midnight, in our little town
 A mourning figure walks, and will not rest,
 Near the old court-house pacing up and down.

Or by his homestead, or in shadowed yards
 He lingers where his children used to play,
 Or through the market, on the well-worn stones
 He stalks until the dawn-stars burn away.

A bronzed, lank man! His suit of ancient black,
 A famous high top-hat and plain worn shawl
 Make him the quaint great figure that men love,
 The prairie-lawyer, master of us all.

He cannot sleep upon his hillside now.
 He is among us:—as in times before!
 And we who toss and lie awake for long
 Breathe deep, and start, to see him pass the door.

His head is bowed. He thinks on men and kings.
 Yea, when the sick world cries, how can he sleep?
 Too many peasants fight, they know not why,
 Too many homesteads in black terror weep.

The sins of all the war-lords burn his heart.
 He sees the dreadnaughts scouring every main.
 He carries on his shawl-wrapped shoulders now
 The bitterness, the folly and the pain.

He cannot rest until a spirit-dawn
 Shall come;—the shining hope of Europe free;
 The league of sober folk, the Workers' Earth,
 Bringing long peace to Cornland, Alp and Sea.
It breaks his heart that kings must murder still,
That all his hours of travail here for men
Seem yet in vain. And who will bring white peace
That he may sleep upon his hill again?