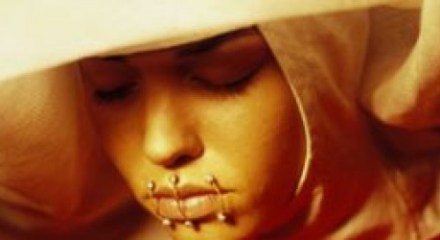 I'm in transit today so I'm rerunning a post from this past April. Unfortunately, it remains timely as ever as Republican legislatures and governors continue their assault on women's right to have abortions. As least so far, judges are upholding Roe v. Wade and preventing states from passing trap laws whose only aim is to close down abortion clinics. Fortunately as well, progressive forces are starting to push back in Texas, North Carolina, and North Dakota. No need yet to go into Handmaid's Tale panic but its necessary to keep speaking up.
 From Better Living through Beowulf, April 23, 2013
Can a novel cause one to panic prematurely? I've been wondering about this since teaching The Handmaid's Tale at a time when we see the cultural battle against women's reproductive rights picking up steam. How concerned should those of us be who believe that women should have control over their own reproductive choices, including whether or not to have an abortion? A number of my women students are very worried, and Atwood's novel adds fuel to their fire.
In case you have missed it, Republican legislatures in North Dakota, Kansas, Alabama, Mississippi, and Arkansas seem to be competing about who can outdo the others. North Dakota's new law limits forbids abortions after 20 weeks of pregnancy, Arkansas's new law after 12. North Dakota has also passed a law limiting drug-induced abortions while Kansas, apparently paving the way for a series of measures in the future, has just declared that "life" begins at fertilization. Mississippi and Alabama have passed so-called TRAP laws (Targeted Restrictions against Abortion Providers) designed to make it impossible for abortion clinics to stay open, and Indiana, Virginia, Texas, and North Carolina are considering the same. Many of these laws will be overruled by court order as being unconstitutional, given that Roe v. Wade is still the law of the land. But that isn't stopping legislatures from passing laws.
There are other disturbing signals as well. GOP candidate Rick Santorum, who finished second to Mitt Romney, attacked birth control itself, not just abortion, and some of the agitation against Obamacare has focused on the way it pays for contraception.  In another area, Congress almost failed to renew the once uncontroversial Violence against Women Act. In fact most House Republicans voted against it.
In Atwood's dystopian novel, anti-abortion agitation eventually leads to the oppressive Republic of Gilead, which the author modeled on the mullahs' clamp down on women's freedom following the Iranian Revolution. In Handmaid's Tale, the repressive forces are Christian, and some of their new laws are motivated by a plummeting birth rate, brought about a series of ecological disasters. Women who haven't been observant fundamentalist Christians can be forced to become handmaids (Swift's word in "Modest Proposal" is "breeders"), where they service couples where the woman is sterile.
Atwood's narrator, who is one of these handmaids, has always been apolitical and notes that, when the first worrisome attacks on abortion doctors began, they always seemed to be someone else's problem. Only in retrospect does she realize that these attacks were only the first step towards the current police state. Should we be worried ourselves?
There's no question that we should remain vigilant, which is one of the purposes of Atwood's book. But Atwood also notes that extraordinary circumstances need to have occurred for her dystopia to come into being. In more moderate times, extreme voices get pushed to the fringes. In America today, it is true that what were once fringe voices are now becoming prominent in some legislatures. But there is not yet a state without at least one abortion clinic (we'll see what happens in North Dakota, Mississippi, and Alabama), and there is a powerful constituency pushing back against the state legislatures. After all, around 1.3 million American women choose to have abortions every year. And Roe v Wade is still the law of the land.
Proponents of women's reproductive rights will need to keep speaking out and applying political pressure. But I think we're a long way from Gilead at the moment.
Previous posts on women controlling their own bodies
A 17th Century Comedy Addressing Rape
Why Roe v. Wade? Read Cider House

Threatened by Female Empowerment
John Irving's Defense of Abortion
How Right Wing Would Respond to Tess
Ryan, Abortion, and Hardy's Angel Clare
King Lear's Sexual Epithets vs. Women 
Things Fall Apart in Bishops vs. Nuns
Women Still Treated as Hysterical