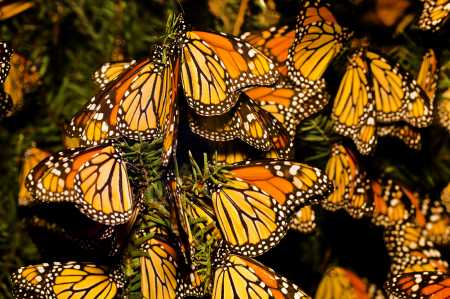 I'm not entirely sure what to make of Barbara Kingsolver's Flight Behavior (2012), which I'm currently teaching in my Introduction to Literature class. It fits well with my theme, which is "Humans in Nature," and I certainly agree with Kingsolver's point that climate change is one of the greatest dangers facing humankind. I just have questions about literature that preaches a cause.
Before exploring my concerns, however, I should note how I use the book. I am deliberately jumping around in time, sometimes looking at contemporary authors and sometimes at revered classics so that the students can see how works like The Bacchae, Sir Gawain and the Green Knight, and Midsummer Night's Dream were once relevant in the way that Wendell Berry, Kingsolver, and Mary Oliver are relevant today. One week we're talking about Pentheus and Dionysus, the next Camelot and the Green Knight, the next industrial polluters and climate catastrophe. I am teaching Flight Behavior because I wanted something that is very recent.
The novel is about the sudden appearance of monarch butterflies in an Appalachian forest one winter. The monarchs normally winter in Mexico but, probably because of climate change, have ended up in the U.S. and consequently are in danger of all dying when the weather turns cold.
This is a forest that a Tennessee hillbilly farmer (as his daughter-in-law Dellarobia calls him) wants to log in order to pay for balloon mortages that he has taken out on new machinery. But the logging will wipe out the butterflies and, that aside, would also lead to mud slides as the Appalachians are experiencing extremely wet weather, also due to climate change. Meanwhile Dellarobia, who feels trapped in her life, starts to see other possibilities for herself when scientists enter the area to study the monarchs.
While Kingsolver's book aims to get us mad, both at those responsible for climate change and at the media and the rightwing politicians who enable the polluters, she also sympathizes with the poor Appalachian citizens who go along with the rightwing agenda. Kingsolver wants to figure out if they can be brought around to work with environmentalists to save the planet, even though they regard them with enmity. She explores their sense of powerlessness, which sometimes takes the forms of religious fatalism ("this must be God's will"). Kingsolver also talks about the cultural blindness of leftwing activists.
As I have students from many different disciplines in the course, I have used Flight Behavior to make the point that literature is inherently interdisciplinary. In yesterday's class we managed to relate the novel to economics, politics, sociology, psychology, anthropology, biology, and environmental science.
The students generally appreciated Dellarobia's snappy observations and we shared favorite passages. On the other hand, not everyone was excited by the long science explanations that are scattered throughout the book, nor by the in-depth depictions of shopping in discount stores. I told them how important it was to leave their own silos and understand how other people thought and lived, which the novel works hard to accomplish. I'm not sure they were convinced.
A novel can be a powerful way to convey political messages, but good politics does not necessarily make for great literature. Kingsolver's agenda seems to constrict thought in a way I don't see happening in other novels of hers, say Poisonwood Bible or Lacuna. Then again, there are some very good novels that have political agendas, like Uncle Tom's Cabin and Grapes of Wrath, which don't feel so constricted. Maybe the difference is in the degree of complexity that the author captures. The great novels dazzle us by their ability to convey the depth of the human experience, even when the authors are clearly guided by a certain point of view.
Here's a sample of Kingsolver's preaching. Ovid, the scientist in the novel, is chewing out a television reporter for the way her news organization is avoiding the bad news about climate change:
Tina blinked once, twice. "Scientists tell us they can't predict the exact effects of global warming."

"Correct. We tell you that, because we are more honest than other people. We know evidence will keep coming in. It does not mean we ignore the subject until further notice. We brush our teeth, for instance, even though we do not know exactly how many cavities we may be avoiding."
"Well, a lot of people are just not convinced. We're here to get information."
… "If you were here to get information, Tina, you would not be standing in my laboratory telling me what scientists think."
She opened her mouth, but he cut her off. "What scientists disagree on now, Tina, is how to express our shock. The glaciers that keep Asia's watersheds in business are going right away. Maybe one of your interns could Google that for you. The Arctic is genuinely collapsing. Scientists used to call these things the canary in the mine. What they say now is, The canary is dead. We are at the top of Niagara Falls, Tina, in a canoe. There is an image for your viewers. We got here by driving, but we cannot turn around for a lazy paddle back when you finally stop pissing around. We have arrived at the point of an audible roar. Does it strike you as a good time to debate the existence of the falls?"
I'm glad Kingsolver is using her skill in analogies and character creation to warn us of the dangers. In passages like this, however, she sounds more like a lecturer than a novelist.
Then again, given how dire the threat is, perhaps we can't be choosy.