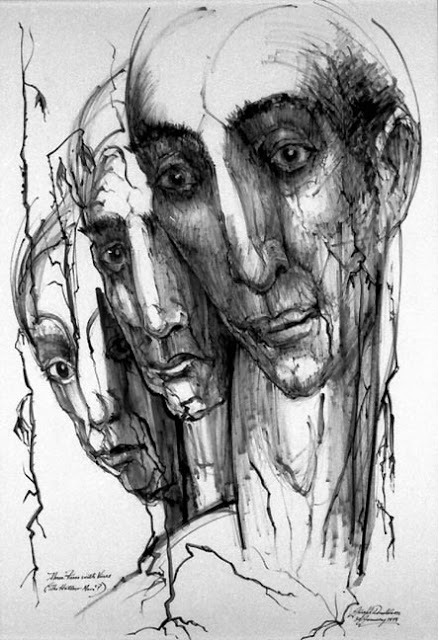 Wednesday
 In yesterday's discussion of Haruki Murakami's Kafka on the Shore, my students seized upon a diatribe against narrow-minded ideologues. In the novel, Murakami mentions leftwing radicals who kill a fellow student, but if he were looking at America today, he might well call out Trump followers who believe whatever he tells them and Congressional Republicans who mindlessly repeat "tax cuts," "repeal and replace," and "second amendment rights."
Such slogans and talking points have nothing to do with living and breathing human beings. Crafted to trigger a Pavlovian reaction, they circumvent rational thought and human empathy, going straight to the reptilian brain. Oshima, a trans librarian, cites T. S. Eliot as he calls them out:
[W]hat disgusts me…are people who have no imagination. The kind T. S. Eliot calls hollow men. People who fill up that lack of imagination with heartless bits of straw, not even aware of what they're doing. Callous people who throw a lot of empty words at you, trying to force you to do what you don't want to…
 And further on:
Those are exactly the kind of people who murdered Miss Saeki's childhood sweetheart. Narrow minds devoid of imagination. Intolerance, theories cut off from reality, empty terminology, usurped ideals, inflexible systems. Those are the things that really frighten me. What I absolutely fear and loathe. Of course it's important to know what's right and what's wrong. Individual errors in judgment can usually be corrected. As long as you have the courage to admit mistakes, things can be turned around. But intolerant, narrow minds with no imagination are like parasites that transform the host, change form, and continue to thrive. They're a lost cause, and I don't want anyone like that coming in here.
 Oshima may be able to keep such people out of his library, but they are feeding upon and transforming our society. It takes strong and healthy minds to stand up to them.
Further thought: Conservative David Brooks making Oshima's point in a recent New York Times column:
To be a moderate is to be at war with idolatry. It's to believe that we become free as we multiply and balance our attachments.