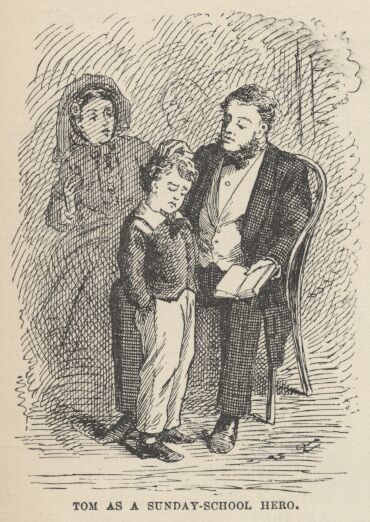 Friday
My heart goes out to my students as they madly cram for final exams, which begin on Monday. I myself do not torment them in this particular way, although many of my science students tell me that they would rather take take tests than write the essays I assign. In any event, I picture them as Tom Sawyer straining his mind to memorize Bible verses:
Then Tom girded up his loins, so to speak, and went to work to "get his verses"…. Tom bent all his energies to the memorizing of five verses, and he chose part of the Sermon on the Mount, because he could find no verses that were shorter. At the end of half an hour Tom had a vague general idea of his lesson, but no more, for his mind was traversing the whole field of human thought, and his hands were busy with distracting recreations. Mary took his book to hear him recite, and he tried to find his way through the fog:
"Blessed are the—a—a—"
"Poor"—
"Yes—poor; blessed are the poor—a—a—"
"In spirit—"
"In spirit; blessed are the poor in spirit, for they—they—"
"Theirs—"
"For theirs. Blessed are the poor in spirit, for theirs is the kingdom of heaven. Blessed are they that mourn, for they—they—"
"Sh—"
"For they—a—"
"S, H, A—"
"For they S, H—Oh, I don't know what it is!"
"Shall!"
"Oh, shall! for they shall—for they shall—a—a—shall mourn—a—a—blessed are they that shall—they that—a—they that shall mourn, for they shall—a—shall what? Why don't you tell me, Mary?—what do you want to be so mean for?"
Tom, as it turns out, is not much different from the other children:
When they came to recite their lessons, not one of them knew his verses perfectly, but had to be prompted all along. However, they worried through, and each got his reward—in small blue tickets, each with a passage of Scripture on it; each blue ticket was pay for two verses of the recitation. Ten blue tickets equalled a red one, and could be exchanged for it; ten red tickets equalled a yellow one; for ten yellow tickets the superintendent gave a very plainly bound Bible (worth forty cents in those easy times) to the pupil.
To be sure, there is the class prodigy, "a boy of German parentage," who ruins the curve for everyone else. Twain makes sure he gets his just reward:
He once recited three thousand verses without stopping; but the strain upon his mental faculties was too great, and he was little better than an idiot from that day forth—a grievous misfortune for the school, for on great occasions, before company, the superintendent (as Tom expressed it) had always made this boy come out and "spread himself."
We also get a little lesson on cheating. Not thinking about consequences, Tom has traded in his gains from the whitewashing episode for other people's tickets. Suddenly he has enough for a special Bible with Gustave Doré illustrations. Unfortunately, a visiting dignitary, prepared to be impressed, gives him a chance to display his knowledge:
"Two thousand verses is a great many—very, very great many. And you never can be sorry for the trouble you took to learn them; for knowledge is worth more than anything there is in the world; it's what makes great men and good men; you'll be a great man and a good man yourself, some day, Thomas, and then you'll look back and say, It's all owing to the precious Sunday-school privileges of my boyhood—it's all owing to my dear teachers that taught me to learn—it's all owing to the good superintendent, who encouraged me, and watched over me, and gave me a beautiful Bible—a splendid elegant Bible—to keep and have it all for my own, always—it's all owing to right bringing up! That is what you will say, Thomas—and you wouldn't take any money for those two thousand verses—no indeed you wouldn't. And now you wouldn't mind telling me and this lady some of the things you've learned—no, I know you wouldn't—for we are proud of little boys that learn. Now, no doubt you know the names of all the twelve disciples. Won't you tell us the names of the first two that were appointed?"
Tom was tugging at a button-hole and looking sheepish. He blushed, now, and his eyes fell. Mr. Walters' heart sank within him. He said to himself, it is not possible that the boy can answer the simplest question—why did the Judge ask him? Yet he felt obliged to speak up and say:
"Answer the gentleman, Thomas—don't be afraid."
Tom still hung fire.
"Now I know you'll tell me," said the lady. "The names of the first two disciples were—"
"David And Goliath!"
Let us draw the curtain of charity over the rest of the scene.
Here's sending out good wishes to all those taking exams over the next couple of weeks. To feel better, you can tell yourselves that "knowledge is worth more than anything there is in the world" and that one day you'll thank your dear teachers who encouraged you and watched over you.
Or maybe, at the moment, you'd rather tell all sanctimonious souls to go stuff themselves.