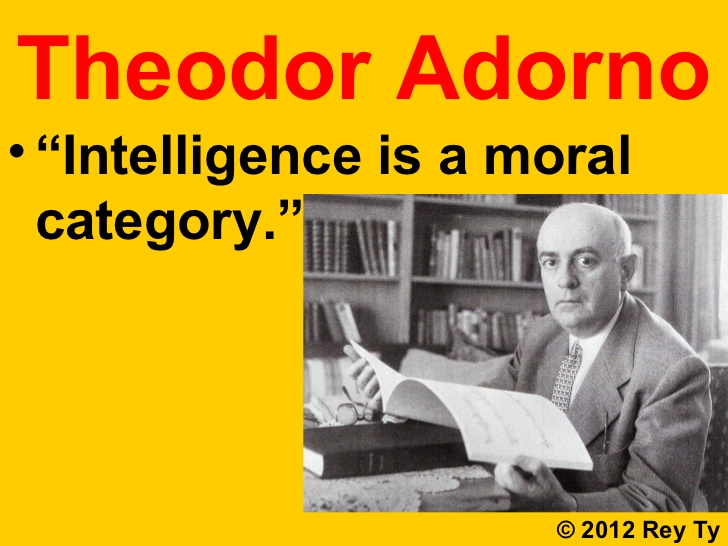 Friday
The New Yorker recently ran a fascinating Alex Ross article on how Theodor Adorno, the fabled culture theorist, presciently foresaw the rise of Donald Trump. Adorno was a member of the Frankfurt School, many of whom came to America fleeing Hitler, and he is best known for his insights into "the culture industry." Adorno described how authoritarian figures use the distraction of mass culture to disguise their actual agendas:
Adorno believed that the greatest danger to American democracy lay in the mass-culture apparatus of film, radio, and television. Indeed, in his view, this apparatus operates in dictatorial fashion even when no dictatorship is in place: it enforces conformity, quiets dissent, mutes thought. Nazi Germany was merely the most extreme case of a late-capitalist condition in which people surrender real intellectual freedom in favor of a sham paradise of personal liberation and comfort. Watching wartime newsreels, Adorno concluded that the "culture industry," as he and [co-author Max] Horkheimer called it, was replicating fascist methods of mass hypnosis. Above all, he saw a blurring of the line between reality and fiction.
Ross sees Trump's triumph as the unfortunate vindication of Adorno's theories:
What Adorno identified as the erasure of the "borderline between culture and empirical reality" is endemic on social media. The failure of Facebook to halt the proliferation of fake news during the campaign season should have surprised no one; the local hirelings of logic are too enamored of their algorithms—and of the revenue they generate—to intervene…Traditional media outlets exhibited the same value-free mentality, pumping out Trump stories and airing his rallies because they got hits and high ratings. 
The Norton Anthology of Theory and Criticism's summation of Adorno expands on this erasure and notes how he saw capitalism constantly arousing and then deferring our desires. Adorno's account helps explain why Trump's apparently unbounded ability to distract us was more powerful than Hillary Clinton's carefully thought-through proposals. Better to be entertained than to have our lives actually improved:
The culture industry, moreover, helps create a state of mind in which people's desires for pleasure and happiness are activated but deferred in endless entertainment. It inculcates resignation, habituating consumers to the everyday drudgery of the modern world.
Adorno's understanding brings Ross to a conclusion that I haven't seen elsewhere but that I find compelling: Clinton lost the election in part because of a fear of boredom. We might turn to a serious president in 2008 when the world economy was melting down, but once things started getting better, many wanted something else:
At some point over the summer, it struck me that the greater part of the media wanted Trump to be elected, consciously or unconsciously. He would be more "interesting" than Hillary Clinton; he would "pop." That suspicion was confirmed the other day, when a CNN executive, boasting of his network's billion-dollar profit in 2016, spoke of "a general fascination that wouldn't be the same as under a Clinton Administration." Of the clouds and shadows that hung over Clinton in the press, the darkest, perhaps, was the prospect of boredom. Among voters, a kind of nihilistic glee may have been as much a factor in Trump's election as economic dissatisfaction or racial resentment. The mechanism by which people support a political program "largely incompatible with their own rational self-interest," as Adorno wrote, requires many kinds of deception.
Ross observes that novelist Don DeLillo understands this phenomenon as well as anyone, laying it out in his campus novel White Noise (1985). The protagonist, who sees reality as merely a fiction, heads "the Department of Hitler Studies" and proclaims, "Some people are larger than life. Hitler is larger than death." White Noise explores "rampant consumerism, media saturation, novelty academic intellectualism, underground conspiracies, the disintegration and reintegration of the family, [and] human-made disasters" (Wikipedia)—which is to say, the America Trump understands.
I think Adorno would have championed DeLillo's postmodern novels as the theorist embraced intellectually challenging literature. Opposed to mere sensual immersion, he was critical of (and criticized by) the anti-intellectual Left in the 1960s, and he would have been horrified but not surprised by the anti-scientism of today's Right. Adorno looked to modernist art as a way of fighting back against mass culture's deadening influence:
In numerous published writings before his death, Adorno propounded his views on the autonomous art of modernism, praising such writers as Samuel Beckett and Franz Kafka, whose difficult works he viewed as specific responses to the historical and social conditions of modernity. For Adorno, modern art resists the self-evidence of empirical reality [what we have been manipulating into thinking is real], lends suffering a voice and acknowledges a better future to come. (Criticism and Theory) 
For Adorno, better difficult works than "carefree amusement" that blurs art, advertising, and propaganda.
To be sure, it appears an unfair contest. Far more people watch Celebrity Apprentice than read Kafka, Beckett, DeLillo, and others. Yet the anger directed against cultural elites may lie in part because the attackers recognize some truth to the critiques. When holes are poked in one's empty distractions, no matter in how abstruse or inaccessible a manner, there's a sting.
Further thought: I forgot to mention another couple of DeLillo similarities that Ross points out:
So here we are, living in what feels like an excessively on-the-nose novel by Don DeLillo, in which a President-elect tweets of his cabinet-selection process, "I am the only one who knows who the finalists are!" One all-too-schematic plot twist is the revelation that Richard Spencer—the white supremacist whose phrase "alt-right" was adopted by Trump's strategist, Steve Bannon—wrote a master's thesis on the topic of none other than Theodor W. Adorno, arguing that Wagner's anti-Semitism prevented Adorno from coming to terms with his love for Wagner's music.