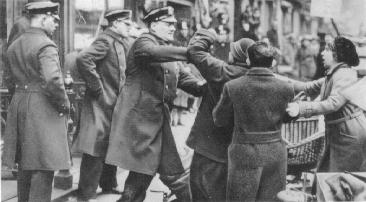 Monday
As I watch Donald Trump trying to scare "suburban housewives" (his twitter phrase) with racist visions of invading black hoards and plummeting property values, I see him returning to his realtor and slumlord roots, using the tried-and-true tactics that made his father a rich man. Fred Trump was held accountable by the Justice Department for his his racist housing practices and discriminatory rental policies, however, whereas Attorney General William Barr fully endorses Trump's program. The presence of paramilitary troops is meant to convince Whites that there is a corresponding Black threat.
Meanwhile, Covid deaths continue to rise and the economy to crater under Trump's management. Unless the Republican Senate stops dawdling, as many as 23 million renters may face eviction by the end of September (this according to the COVID-19 Eviction Defense Project).
Not all landlords are like the Trumps, of course—many themselves face economic ruin—but this seems a good time to share Langston Hughes's "Ballad to a Landlord." When a black homeowner pushes against his negligent landlord, he quickly learns who has access to institutions of power, including the police, the press, and the judicial system.
The poem is dated in that those who feel threatened by men of color no longer shout out, "Police! Police! Come and get this man." Instead, they use their cellphones.
Ballad of a Landlord

Landlord, landlord,
My roof has sprung a leak.
Don't you 'member I told you about it
Way last week?

Landlord, landlord,
These steps is broken down.
When you come up yourself
It's a wonder you don't fall down.

Ten Bucks you say I owe you?
Ten Bucks you say is due?
Well, that's Ten Bucks more'n I'll pay you
Till you fix this house up new.

What? You gonna get eviction orders?
You gonna cut off my heat?
You gonna take my furniture and
Throw it in the street?

Um-huh! You talking high and mighty.
Talk on-till you get through.
You ain't gonna be able to say a word
If I land my fist on you.

Police! Police!
Come and get this man!
He's trying to ruin the government
And overturn the land!

Copper's whistle!
Patrol bell!
Arrest.
Precinct Station.
Iron cell.
Headlines in press:

     MAN THREATENS LANDLORD
     TENANT HELD NO BAIL
     JUDGE GIVES NEGRO 90 DAYS IN COUNTY JAIL
Other timely Hughes poems:
Here's one that gets straight to the emotional core of current anxieties. It's short and sweet and makes playful use of parentheses. Hughes is a master at understatement when it comes to life and death issues, avoiding melodrama with a dash of stoic irony:
Little Lyric (of Great Importance)

I wish the rent
Was Heaven sent
His use of the cosmopolitan "ennui," meanwhile, contrasts with–and thereby accentuates–the numbing actuality of grinding poverty:
Ennui

It's such a 
Bore
Being always
Poor