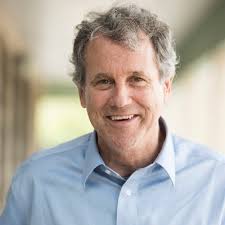 Friday
While I don't yet know whom I will be supporting for the 2020 Democratic nominee for president—I very much like the women who have declared so far—I have a soft spot for Ohio's Sherrod Brown. Brown, whose working class sympathies helped him comfortably win reelection in a red state, just made his case stronger in my eyes by quoting a little-known Tolstoy novel in an interview.
I fell in love with Resurrection last year because of the way the protagonist becomes a fervent advocate for prisoner rights (I wrote about the novel here and here), so my jaw dropped when I learned that the novel helps explain Brown's working class sympathies. Here Atlantic's George Packer:
The third [passage Brown quoted] isn't the sort that politicians generally cite. It comes from Tolstoy's Resurrection—his last and most obscure novel, about a well-to-do man who forces himself to experience the misery and degradation of those lost souls in society's lower depths. The novel makes us see what horrors we accept as normal when we allow ourselves to feel no love for other human beings. Brown quoted a phrase about a certain church official named Toporoff—a man "like all those who are quite destitute of the fundamental religious feeling that recognizes the equality and brotherhood of men."
Given how Donald Trump politicked at yesterday's National Prayer Breakfast to shore up his evangelical base, it's worth dwelling a little more on the figure of Toporoff, to whom the protagonist appeals to right a religious injustice he has encountered in the prisons. Toporoff believes in the church only because it pays his salary, not because he believes. As he sees it, superstition keeps the masses coming to church, which he will therefore doing anything to defend. As Tolstoy puts it,
It was his duty to keep up and to defend, by external measures, not excluding violence, that Church which, by its own declaration, was established by God Himself and could not be shaken by the gates of hell nor by anything human. This divine and immutable God-established institution had to be sustained and defended by a human institution–the Holy Synod, managed by Toporoff and his officials. 
Toporoff regards true belief as superstition, which must be cultivated amongst the masses to keep them coming to church. Here's a bit more from the passage Brown quotes, which contains some savage Tolstoyan sarcasm::
Toporoff, like all those who are quite destitute of the fundamental religious feeling that recognizes the equality and brotherhood of men, was fully convinced that the common people were creatures entirely different from himself, and that the people needed what he could very well do without, for at the bottom of his heart he believed in nothing, and found such a state very convenient and pleasant. Yet he feared lest the people might also come to such a state, and looked upon it as his sacred duty, as he called it, to save the people therefrom.
In other words, true belief is for suckers. Riffing off of the passage, Brown tells Packer,
Underpinning all faiths is really a belief that all people are equal, whether you street sweep, or whether you write for The Atlantic, or whether you run for office.
Then comes a Packer observation that jumped out at me. While Brown doesn't himself come from a working class background, reading Tolstoy led him to his political sympathies:
If you're going to talk about "the equality and brotherhood of men," you'd better mean it, and you'd better live it. Brown grew up comfortably in Mansfield, Ohio—his father was a doctor and his mother a social activist—and he attended Yale, where he majored in Russian studies….He was elected to the Ohio state legislature right out of college, in 1974, and he learned his trade by hanging around local union halls and listening to the members talk about their lives, troubles, hopes. In other words, Brown discovered Tolstoy before he discovered the working class. In the shallow version of American politics, he would have had to choose between bookish idealism and the cause of ordinary people. Instead, his love of the first nourished his commitment to the second.
Whoever becomes our next president, pray that he or she is this thoughtful.