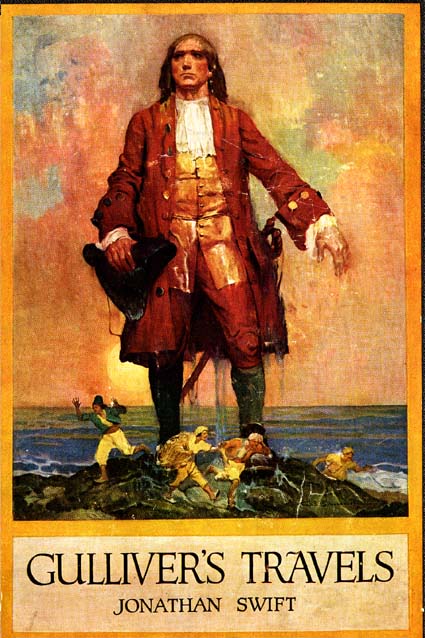 To help save the planet, the president has done something big, using his executive authority to cut carbon emissions from existing coal burning plants. As Jonathan Chait of New York Magazine puts it,
Obama has done everything within his power to fight the most urgent crisis of our time. That is to say, he has put in place a climate-change policy agenda that is likely, though not assured, to be regarded as a historic success.
Of course, even more could be accomplished if the GOP were willing to work with him, but most politicians on the right are denying that there's even a problem. Which means that it's time to bring in Jonathan Swift.
The great 18th century satirist well understood how and why people refuse to acknowledge facts staring them in the face. He would understand why so-called conservative intellectuals like Charles Krauthammer and George Will twist themselves into pretzels rather than face up to the fact that the globe is warming up. He would understand why the House of Representatives recently voted, on almost a straight party line vote, to forbid the Pentagon to use any of its funds to study the impact on military preparedness of climate change and rising sea levels. The vote resembled another that occurred in the North Carolina legislature a couple of years ago when the state was banned "from basing coastal policies on the latest scientific predictions of how much the sea level will rise."
In short, he'd say that conservatives at the moment are behaving like Lilliputian philosophers.
The Lilliputians have a gigantic problem on their hands. Literally. Not only has a giant entered their realm but he has informed them that he is not the only giant in the world. There are entire nations filled with people that are his size. Gulliver's Lilliputian friend Reldresal informs him how his news has been received:
For as to what we have heard you affirm, that there are other kingdoms and states in the world inhabited by human creatures as large as yourself, our philosophers are in much doubt, and would rather conjecture that you dropped from the moon, or one of the stars; because it is certain, that a hundred mortals of your bulk would in a short time destroy all the fruits and cattle of his majesty's dominions: besides, our histories of six thousand moons make no mention of any other regions than the two great empires of Lilliput and Blefuscu.  
The paragraph that leads up to this instance of Lilliputian denial provides special insight into our own situation: it offers an extended description of party factionalism and international rivalries. The Lilliputians are concerned more with their own comparatively small battles than with the threatened end of their existence. Indeed, it may be because they can have an impact in local battles but feel impotent in the face of the Gulliver problem that they focus on the one and not the other. Maybe that's what 's driving GOP denialism as well: it is easier to engage in party politics than do anything constructive.
Here's Reldresal laying out the political landscape:
[Y]ou are to understand, that for about seventy moons past there have been two struggling parties in this empire, under the names of Tramecksan and Slamecksan, from the high and low heels of their shoes, by which they distinguish themselves.  It is alleged, indeed, that the high heels are most agreeable to our ancient constitution; but, however this be, his majesty has determined to make use only of low heels in the administration of the government, and all offices in the gift of the crown, as you cannot but observe; and particularly that his majesty's imperial heels are lower at least by a drurr than any of his court (drurr is a measure about the fourteenth part of an inch).  The animosities between these two parties run so high, that they will neither eat, nor drink, nor talk with each other.  We compute the Tramecksan, or high heels, to exceed us in number; but the power is wholly on our side.  We apprehend his imperial highness, the heir to the crown, to have some tendency towards the high heels; at least we can plainly discover that one of his heels is higher than the other, which gives him a hobble in his gait. 
"Neither eat, nor drink, nor talk with each other": that about sums up our two political parties today. The difference in our case, however, is that one of the parties is willing to face up to the giant problem whereas the other is not.
There are, to be sure, Republicans who wobble like "his imperial highness" on the issue. Take for instance GOP presidential candidate Jon Huntsman's twitter statement in 2012: "To be clear. I believe in evolution and trust scientists on global warming. Call me crazy." Unfortunately, that's what the other candidates did, bringing his presidential campaign to an early halt.
In the meantime, the earth warms up. Thankfully, Obama is doing what he can.