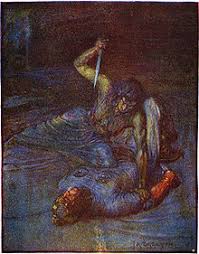 Thursday
I report today on a memorable encounter I had with an African American alum upon my first post-retirement return to St. Mary's College of Maryland. I was talking with a former colleague when Candace looked in and began reminiscing.
I didn't recognize her, even after she told me her name, but something clicked when she mentioned taking my Early British Literature survey almost 20 years ago. "Oh, you're the student who wrote that essay about Grendel's Mother and grief, I said." She was amazed that I remembered and, to tell the truth, so was I. This doesn't normally happen.
Only her essay was so remarkable I have never forgotten it. As I recall, she lost a twin sister when she was a girl, after which her father's heart closed down and never reopened. She felt his coldness and assumed, as children will, that the fault lay in her. She thought she could reopen his heart if she made him proud of her and strove to excel, especially in academics.
She therefore saw the struggle with Grendel's Mother as a struggle with grief. As I teach the poem, the lake into which Beowulf leaps following the death of Hrothgar's best friend is the human heart. Beowulf shows the heartsick king that one must handle grief directly, not shy away. To do so takes real courage, and the poet tells us that a deer fleeing from hounds would rather be torn apart on the shore than enter those dark waters. In such ways do we let our repressed sorrows tear us apart.
Candace, as I recall, saw her father in the frozen lake and again in the chest armor that Beowulf dons to protect his heart. Courageous though he may be, even Beowulf seeks to steel himself to the sea monsters that claw at his feelings. Hardness can only last so long, however, and when Grendel's Mother starts stabbing his chest with a knife, he is in danger of being swallowed up by emotional devastation.
Candace knew the drama intimately since she, as well as her father, had traveled that road. Her deep dive into the battle gave her a narrative framework for their struggles. In the poem, Beowulf discovers that his normal strategies for coping with life's challenges no longer work (his iron grip, his sword). Only through a cause bigger than himself, represented by a warrior's sword forged by giants before the flood, can he defeat the monsters that assail him. In our essay conference, I remember asking Candace, "What is your giant sword?" although neither she nor I could recall how she answered.
In the few minutes that we talked, however I got a sense of her response. Her advanced degree in higher education indicates that she has gone out in the world to help young people, and she now works for another Maryland college. She has stepped into her Beowulf strength and the world is a better place because of it.
Although I haven't found other scholars who interpret Beowulf as an exploration of bad and good ways to grieve, I can't read it any other way. Grendelian resentment over exclusion arises over the sadness of being unloved, Grendel's Mother is the vengeful grief that visits one's own suffering on others, and the Dragon is the cold, depressed grief that withdraws into its cave. In other words, troll grief lashes out at others, dragon grief sinks into itself.
Throughout the poem, one finds that all the warriors and kings (including even Beowulf) grapple with one or more of these three griefs.  Beowulf finds a powerful response to each one.
As an exploration of grief, the poem has proved a boon to humankind. In the 8th century it gave Anglo-Saxon warriors a way of voicing their sorrow over fallen comrades. In our own time (as I have blogged numerous times) it gives us ways to process our mass shootings. I argue in my 2016 book How Beowulf Can Save America that U.S. grief over the loss of cherished dreams contributes to our charged politics. The poem, I argue there, offers us both a diagnosis and a way forward, and my admiration for it grows with every passing year.
If I can see these many dimensions of Beowulf, it is because students like Candace have been willing to open up themselves up to what it had to teach them. Through their explorations I have conducted my own.