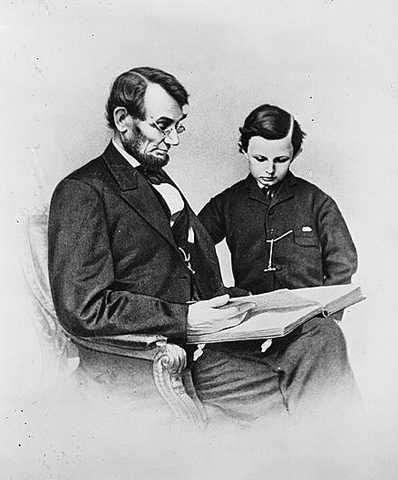 I've had fun discussing the reading of Sonia Sotomayor and Clarence Thomas over the last couple of days, and while I've come up dry on further posts about the Supreme Court and literature, it has given me the idea of periodically dipping into reading stories of other political figures. I'll start a list here, beginning with American presidents, and invite readers to add to it. I will periodically dip into these reading stories to see if I can discover how these books helped these men and women handle the challenges they faced.
–George Washington apparently loved the brilliant Richard Sheridan comedy School for Scandal.
–Abraham Lincoln's favorite book, which he knew thoroughly and drew on repeatedly, was The Bible. There are numerous accounts of him turning to it to bolster himself through the dark days of the Civil War. I know that he was drawn to the Book of Proverbs and that he often saw his own situation captured within various stories (including, I suspect, The Book of Job). His rich prose style is heavily influenced by the King James version.
–Teddy Roosevelt was a big fan of the poetry of Edward Arlington Robinson, author of such poems as "Richard Corey" and "Mr. Flood's Party."
—One of Eisenhower's favorite books was the comic but, in the end, apocalyptic and deeply disturbing Connecticut Yankee in King Arthur's Court by Mark Twain.
—John Kennedy loved Ian Fleming's James Bond novel From Russia with Love. He was also a fan of Stendahl's The Red and the Black. The Red and the Black is also reportedly Al Gore's favorite novel.
—All I've been able to find out about Richard Nixon is that he liked Tolstoy. Which book or books, his library doesn't say.
–I look forward to writing posts on inauguration poets: Robert Frost (for Kennedy), James Dickey (for Carter), Maya Angelou (for Clinton), and Elizabeth Alexander (for Obama).
–Ronald Reagan reportedly loved the poetry of Robert Service, author of "The Shooting of Dan McGrew" and "The Cremation of Sam McGee."
–Bill Clinton's favorite novel is one of the great novels of the 20th century, Gabriel Garcia Marquez's One Hundred Years of Solitude. Clinton has a high quality list of favorite books, according to a CBS news article.
–Here's a book choice that I find particularly intriguing: according to Karl Rove, one of the books that George W. Bush read in 2006 (when the two of them were having a reading contest) was Albert Camus's The Stranger.  Rove doesn't report on what Bush thought of Camus's existential masterpiece, but the idea that this famously no moral ambiguities president would pick up a book that wrestles with the vision of an absurd and meaningless universe is startling.
Bush claims that his favorite book, incidentally, is a children's book, even though he would have encountered it as an adult: Eric Carle's The Very Hungry Caterpillar.
–Barack Obama, one of our most well-read presidents, notes that he is currently reading Joseph O'Neill's novel Netherworld. Among the books that he quotes from the most often is one of my own favorites, Toni Morrison's Song of Solomon. As a story of a young black man who goes through a period of confusion before finding himself, Morrison's novel makes sense.