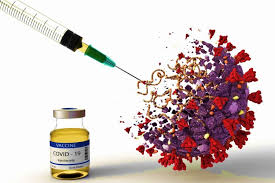 Wednesday
My wife took my 95-year-old mother to get the Covid vaccine the other day—in our Tennessee county it's supposedly available to those over 75—but the school parking lot was full when they arrived, with an even longer line of cars waiting to get in. A cop informed them that there were only 300 doses, which meant that it was pointless to join the line.
All of this was sparked by an e-mail that some received and others didn't. In other words, distribution here is haphazard. Meanwhile, American Covid deaths have passed 350,000 and continue to climb. We'll be closing in on 400,000 by Inauguration Day.
Because I've been reading Jacqueline Winspear's Maisie Dodd mysteries, many set during World War I and World II, I think of those people who died in the final days before the Nov. 11, 1918 armistice. It seems a particularly cruel twist that people should go down when the finish line is in sight. Wilfred Owen, author of England's greatest anti-war poems, died while fighting on Nov. 4. The groundbreaking French poet Guillaume Apollinaire, weakened by an injury, died of the Spanish flu on Nov. 9.
In American Agent, Maisie interviews a woman whose husband died in October, 1918, the day before he was due to come home on leave. The woman uses the finish line analogy as Maisie commiserates:
"I am so sorry—how very sad. So close to the Armistice."

"Just before the finish line. I am inclined to think he was so excited about coming home he stopped paying attention, as if he'd imagined it so many times, he was already here, so he became careless.
I think of Covid as I think of World War I: so many people died who didn't have to. Just as history has lacerated those who got us into that war, it will deal severely with those who botched the Covid response.
As for the rest of us, there's more need for care now than there ever was. This is no time to let up.